Thomas P. Sterry, MD
1080 5th Avenue #1b
New York, NY 10128
Phone: (212) 249-4020
Monday - Thursday: 9 a.m.–5 p.m.
Friday: 9 a.m.–3 p.m.

How to Get the Best Tummy Tuck in New York City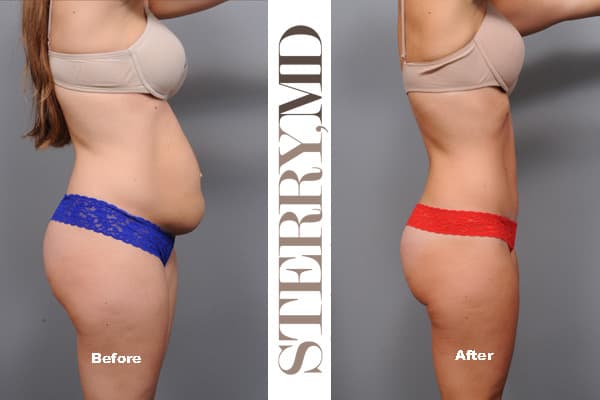 Dr. Thomas P. Sterry explains in his own words.
While there is no such thing as the "best tummy tuck surgeon in New York City," some surgeons will consistently do a better job than others. The best tummy tuck surgeons typically share many of the same habits and techniques. First off, they have all completed an ACGME residency in plastic surgery for several years, have passed both written and oral examinations (taken one year apart), and have become certified by the American Board of Plastic Surgery.
If you're ready to consult with one of the top tummy tuck surgeons in New York City, request a consultation using our online form, or call our office at (212) 249-4020 to schedule an appointment.
What Makes a Dr. Sterry Tummy Tuck Different?
So, what makes one tummy tuck come out better than another? Flattening the belly and creating a straight scar should be the bare minimum that a plastic surgeon can offer. The true goal should be to look better in a bikini!
At my practice in Manhattan, a flat tummy tuck result is only part of the equation. A great result starts with the creation of a methodical plan. The markings, anesthesia and pain control, surgical technique, and post-op care are all choreographed and rehearsed thousands of times before you become a patient. Most importantly, there is critical attention dedicated to creating a natural-appearing belly button, so the rest of New York won't know you've had a tummy tuck.
A Better Tummy Tuck by Design
The first step in controlling the results of your tummy tuck is to design an incision that will be below the bikini line. I typically start by marking the borders of a bikini on the patient before the operation ever starts. With this done, I know the boundaries of where I am allowed to put my incision.
How Much Does a Tummy Tuck Cost in NYC & Manhattan?
The actual cost of the procedure depends on the extent of correction you need, whether you want to have liposuction incorporated into your tummy tuck, and the qualifications of your surgeon and surgical team, among other things. These variables prevent us from being able to quote actual prices without an in-person consultation.
Where Is the Scar for a Tummy Tuck?
While I do take precautions to place the scar as low as possible, the overall quality of your scar is out of my control. There are a couple of little things we can do to help make a better scar, but your genetics will control whether it heals to a flat, pale, line or something more visually obvious. However, the tummy tuck scar is well-concealed by a bikini. That's a point I try to make to everybody. Only "dogs and lovers" will actually see this scar. Of course, I want it to be clean, straight, and fade well. But no matter what, it's going to be under your bikini line, so no one in the "outside world" will know that you had this tummy tuck done — it's our secret.
What Kind of Anesthesia Do I Need for a Tummy Tuck?
Your experience as a patient is the ultimate test of our performance as an office. To that end, we try to use a better, more individualized approach to anesthesia. It is typically comprised of a combination of local anesthesia, nerve blocks, and sedation rather than general anesthesia for the overwhelming majority of patients. While we have the ability to perform general anesthesia, it is extremely unusual for my anesthesiologists to use it. That means you won't need to be intubated or get any gas anesthetics, so nausea and headaches are almost unheard of in the operating room or after. This also dramatically reduces the risk of complications like pneumonia, or blood clots.
Is a Tummy Tuck Painful? Not Anymore!
We are able to give you less anesthesia because I work with my anesthesiologist and give as much local anesthesia as possible so that he or she only has to use minimal amounts of narcotic and you have a smooth transition. To that end, I started using a TAP (Transversus Abdominus Plane) block with a 72-hour local anesthetic called Exparel a few years ago. This helps not only during the operation, but the Exparel gives patients 3 days of pain relief after the operation is done. Since the first 3 or 4 days after abdominoplasty is the toughest part of the recovery, this has been a game-changer in my practice and is a huge advantage over the old techniques. With less discomfort, patients are able to move more (to prevent clots) skip narcotics (avoids nausea and constipation), and recover faster with an overall better experience.
Tummy Tuck vs. C-Section Pain: Which Hurts More?
A C-section is a much more invasive operation than a tummy tuck. The surgeon needs to split the muscles, open the uterus, remove the baby, and then put everything back together again. That being said, the vast majority of women tell me the tummy tuck is easier than a C-section. I have a video I made of a patient saying so on camera.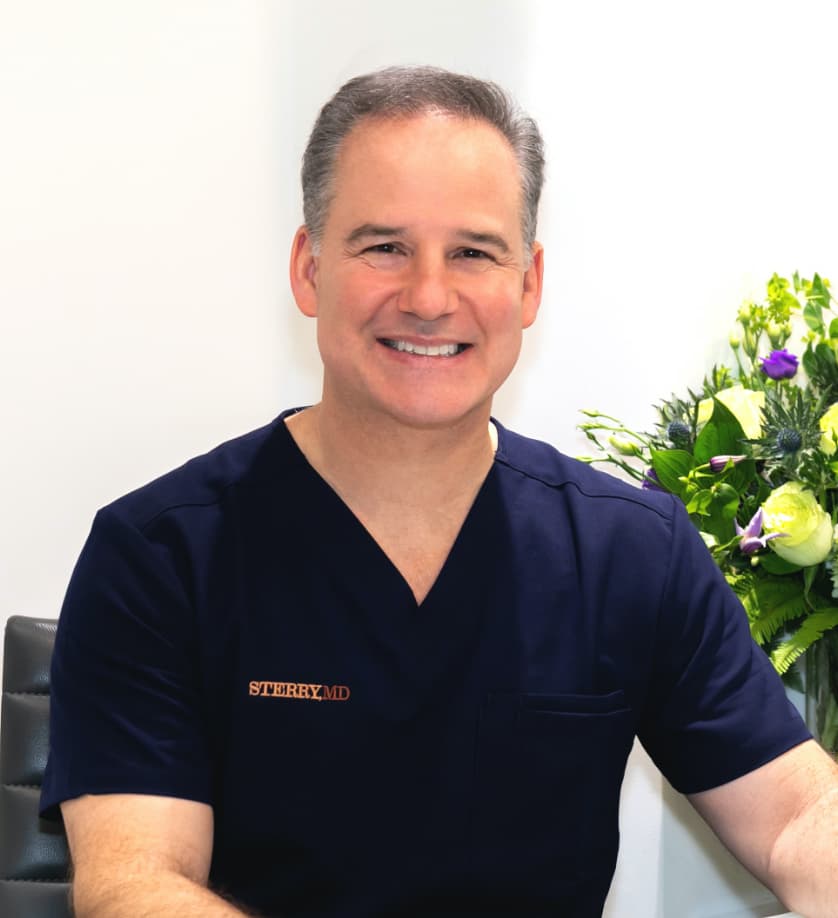 Get to Know
Dr. Thomas P. Sterry
Thomas Sterry, MD, is a board-certified New York City plastic surgeon with over 20 years of experience. He has been president of both the New York State Society of Plastic Surgeons and the New York Regional Society of Plastic Surgeons. In addition, he sits on the executive council of the New York County Medical Society and has been a delegate to the Medical Society of the State of New York for years. At his inviting, boutique-style practice in Manhattan, he focuses on each patient's unique needs and aesthetic goals so that he can provide the most attractive and natural-looking outcomes possible.
Meet Dr. Sterry
Request a Consultation
Credentials you can trust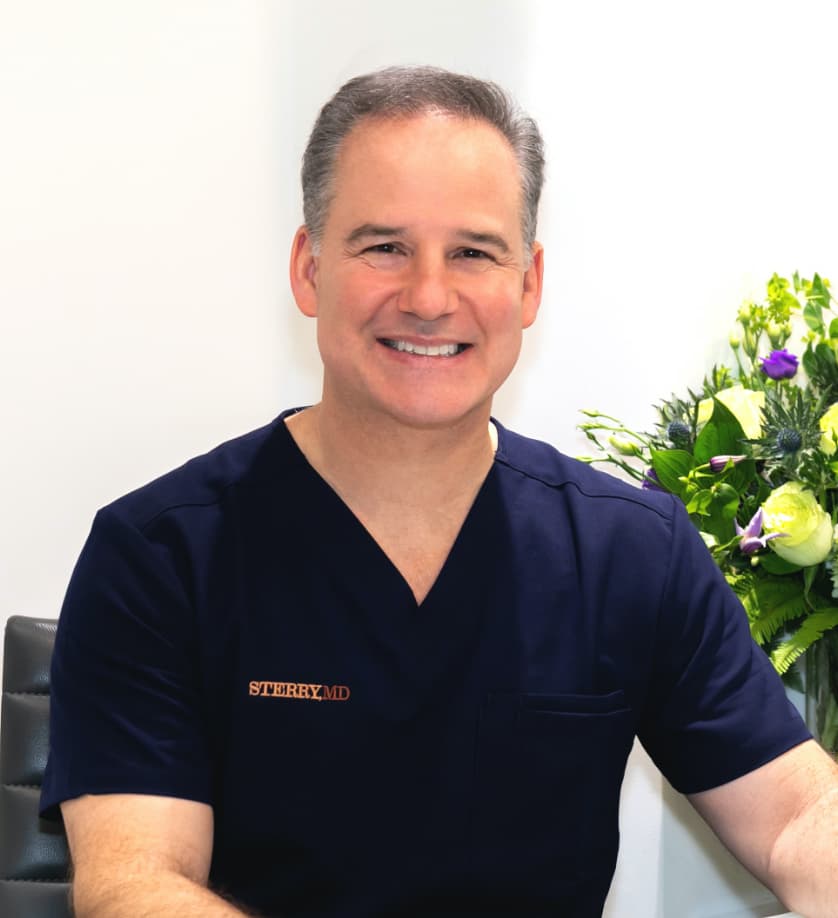 Do I Need to Be Hospitalized for a Tummy Tuck?
As an added benefit of the anesthesia techniques described above, patients are able to walk out of my New York City office within an hour or two of their tummy tuck being completed. There are lots of studies that show people do better when they have ambulatory surgery as opposed to being admitted to the hospital. I would add, that the infection rate in the hospital hovers just below 4%, while the infection rate in office-based surgery facilities is 1/2400. We can also avoid the hassles (and expense) of hospital admission. All this being said, I do have operating privileges at Mount Sinai Hospital and if you and your family are more comfortable, we can do the procedure in the main operating room there, or at the surgical center run by the Department of Surgery.
Will I Get a New Belly Button With a Tummy Tuck?
The belly button is the "crown jewel" of the abdominoplasty procedure. If it doesn't look natural, even the best tummy tuck can be obvious to the public. Therefore, I consider the umbilicus to be sacred. Once the abdomen is closed, it's time to bring the original belly button back out through the skin that's been pulled tight. It has to be located right smack in the middle, level with the top of the hips, and just the right size.
Getting the umbilicus right is worth the 20 or so minutes it takes me. Some people ask me why my tummy tucks take longer than other surgeons, but I'm trying to do it right — this isn't McDonald's. Manhattan is a tough neighborhood, and if I do subpar work, my competition will exploit it happily.
In my before-and-after gallery, I hope you'll notice that my tummy tuck patients have very natural-looking bellybuttons without the telltale quarter-sized or "stitched" in appearance that you might find elsewhere.
Will I Need a Drain With My Tummy Tuck?
While I perform drainless tummy tucks on a regular basis, I also like to use some judgment and protect my patients from complications. My personal rule is that if there is no liposuction performed during the abdominoplasty, then I may use progressive tension sutures to close down the empty space below the skin and perform the operation without any drain at all. The caveat is that I find patients with drainless tucks tend to stay swollen a bit longer than those who had the drain in place. Again, New Yorkers are demanding consumers, and I need them to look good as fast as possible. In my mind, I'd rather have the drain for a few days and have a shorter overall recovery time, but I respect that some patients are "grossed out" by the drain and may actually make their decision on a surgeon based on that single issue.
For those patients who do have liposuction around the waistline with their tummy tuck (to create a more S-curve silhouette), I still use the progressive tension sutures, but I also leave a drain in place for 4-5 days. It is typically safe to remove a drain after that time and still avoid problems like fluid collections.
Tummy Tuck Before & After Photos
This patient, age 38, wanted her body back after having 3 children. Dr. Sterry performed abdominoplasty as part of a mommy makeover that also included breast augmentation. Visit his photo gallery for additional photos of this patient. Your results may vary.
Do I Need a Tummy Tuck?
Nobody "needs" abdominoplasty, but there is some evidence that a tummy tuck can make people happy! Abdominoplasty is the preferred remedy for patients who struggle with excess skin on the abdomen. This situation is typically the result of pregnancy, but it can also occur after weight loss or become more pronounced as we age. Although the surgery is not a weight loss procedure, it can flatten the tummy and reduce inches around the waist, especially when combined with liposuction. It also tightens weakened abdominal muscles, especially those that have become separated due to pregnancy (a condition called "diastasis recti" — see below). You might be a good candidate if you're bothered by any of the following:
Abdominal muscles that have been weakened by pregnancy or aging
A large abdomen that appears out of proportion with the rest of the body
Small amounts of unwanted fat deposits
Loose, sagging abdominal skin
A stretched, misshapen belly button that needs revision
If you've lost a significant amount of weight through bariatric surgery or from diet and exercise, a more significant procedure, called a lower body lift, might be a better fit for you. During your consultation, I can help you decide on the right course of action.
"I'm very happy that I did this and I'm very happy that I chose Dr. Sterry to perform my tummy tuck. He's meticulous, professional, honest, and a superb surgeon."

TTinNYC, tummy tuck patient on RealSelf.com

*Your results may vary.
What Is Diastasis Recti and How Do You Fix It?
Diastasis recti is a gap between the two sides of the rectus abdominis muscle which runs vertically down the anterior wall of the abdomen. Many women who have had children develop this condition because the abdominal muscles are stretched and separated to accommodate the growing baby and they fail to return to their original state. During a tummy tuck, I tighten the separated abdominal muscles by pulling them together, closing the gap, and stitching them in place, creating an internal "corset." This results in a flatter abdomen and slimmer waist. You can learn more about fixing diastasis recti from this blog post.
How Exactly Is a Tummy Tuck Performed?
After we've created your custom surgical plan, I begin your procedure by carefully making a horizontal incision just within or above the pubic area.
The length of the incision, which extends outward toward the hip bones, depends on the amount of skin being removed. The more skin to be excised, the longer the incision. Next, I make a second smaller incision around the navel. This allows me to separate the belly button from the surface abdominal skin. The belly button remains in place and contrary to popular belief, it does not move. Undermining of the upper abdominal skin continues all the way to the rib cage.
At this point, the muscles of the abdominal wall are exposed. I repair the separated abdominal muscles (diastasis recti) with suture material that holds strength for 9 months but will dissolve in 18 months, resulting in a slimmer, flatter midsection.
Next, the lax upper abdominal skin is pulled down to meet the pubic region and sutured in place. Finally, I use the skills and techniques referenced above to make a new opening for the belly button.
As I stated earlier, I typically operate out of my own surgical facility for unparalleled safety and convenience. My surgical center is fully staffed by a team of exceptionally trained operating room professionals, and your safety and satisfaction are our top priorities. We do a lot of abdominoplasties this way and I have even patented my own tummy tuck retractor. For patients who prefer it, I also operate at the prestigious Mount Sinai Hospital.
How Long Is Tummy Tuck Recovery?
Most people can return to work and non-strenuous activities 2 to 3 weeks after surgery. I've created a timeline you can reference for recovery milestones:
Tummy Tuck Recovery Timeline
| Time Post Surgery | Milestone |
| --- | --- |
| 4 to 5 days | Surgical drains removed |
| 2 to 3 weeks | Return to school and nonstrenuous work |
| 3 weeks | Stop wearing compression garment |
| 6 weeks | Resume aerobic exercise (e.g., walking, stationary biking) |
| 3 months | Resume strenuous exercise (e.g., weight lifting, running, yoga) |
| 3 months | 80% healed |
| 6 months | 90% healed |
What is Tummy Tuck Recovery Like?
After your abdominoplasty here in NYC, you'll be taken to a recovery area. You may have a drain (as mentioned earlier) and your incision will be covered with a bandage. You'll also be wearing an elastic support garment while you heal.
Most patients cannot stand up perfectly straight immediately after surgery, which is normal. However, we encourage you to get out of bed regularly to improve blood flow and reduce the risk of certain complications. In the early phases of your recuperation, you should avoid straining, bending, and lifting anything more than a few pounds. Bruising and swelling will be at their most significant within a week of your surgery, after which they'll begin to improve on their own.
I typically remove your drain (if you have one) about 5 days after surgery. Most patients are back to work after about 12 to 16 days unless they work physically demanding jobs that require more recovery time before resuming work. At the 6-week mark, most patients are asking me for permission to return to the gym and I allow them to begin any aerobic exercise they like. However, they should not strain or work their core with things like Pilates or sit-ups until about 3 months post-op.
Any residual numbness and tightness dissipate on their own throughout the first few months after surgery. As time progresses, your incision line may go through several phases of being more prominent until about 9 months or so. To ensure a discreet scar, avoid sun exposure and apply silicone gel as the incision continues to heal.
Full results may not be appreciated until as much as 6 months after the procedure. That said, most of the photographs in our before and after gallery are 3 months post tummy tuck.
Is a Mini Tummy Tuck Right for You?
About 10 to 12 years ago, I went through a phase where I tried to do more mini tummy tucks. Every patient who came through the door was asking for a "mini" something, and everyone wants the least invasive procedure they can have, so I went with it for a while. What I found was that I really was not so proud of some of those results. As time went by, I found myself limiting the folks I would consider a mini tummy tuck for to a very narrow group.
Currently, most of my mini tucks are performed for patients who basically want C-section scar revision. If there is truly loose skin below the belly button, a lot of those patients are better served with a full tummy tuck, in my opinion. The difference is not such a dramatically longer scar, but the result is enormously better.
Full vs. Mini Tummy Tuck Comparison
| Benefit | Full Tummy Tuck | Mini Tummy Tuck |
| --- | --- | --- |
| Tightens loose skin | Yes (above and below the navel) | Yes (below the navel only) |
| Repairs ab muscles | Yes | Yes (below the navel only) |
| Reshapes the navel | Yes | No |
| Removes C-section scar | Yes (creates a brand new scar) | Yes (creates a brand new scar) |
Is it Safe to Have Liposuction and a Tummy Tuck at the Same Time?
Combining a tummy tuck with liposuction of the abdomen at the same time is a bit dangerous because the tummy skin and other tissues could lose their blood supply, and this could cause trouble with wound healing. That said, many of us will combine a tummy tuck with liposuction of the flanks because the two procedures augment each other so nicely. The tummy tuck makes your abdomen flatter, but the liposuction is what gives you a beautiful hourglass waistline.
Tummy Tuck FAQ
Can I still get pregnant after tummy tuck surgery?
Pregnancy is safe for most women after tummy tuck surgery; however, Dr. Sterry does not recommend additional pregnancies because they will likely reverse most or all of the improvements from the surgery.
How much weight do you lose with an abdominoplasty?
Abdominoplasty is not a weight loss procedure. If you lose weight after the surgery, you may end up with excess skin again. The good news is patients typically look like they've lost weight, and many drop 2 to 3 sizes in dresses and pants.
Is the surgery really worth it?
While tummy tuck recovery involves emotional highs and lows, after about 3 months when abdominal muscles and skin have relaxed and swelling has subsided, Dr. Sterry's patients are typically very happy they had the surgery.
How long will my results last?
Tummy tuck results last indefinitely when patients maintain their weight and do not become pregnant.
How do I know if I need a tummy tuck or just liposuction?
These body sculpting procedures provide different benefits, so the right one for you depends on what you'd like to achieve. Tummy tuck surgery tightens lax abdominal skin, reshapes the belly button, and repairs weakened abdominal muscles. Liposuction removes excess fat from the belly, waist, hips, back, and other areas. If your belly bulge is due to excess fat, liposuction on its own might give you the improvements you want. If you have sagging skin and bulging ab muscles, you will need a tummy tuck. Dr. Sterry can use liposuction to complement tummy tuck results by enhancing contours.
How long will I need to wear a compression garment following surgery?
Dr. Sterry has his patients wear a compression garment at all times, except for an hour break to shower, for the first 3 weeks after tummy tuck surgery. He suggests wearing it as much as possible during the following 3 weeks to encourage smooth, firm abdominal contours. Patients typically appreciate the gentle support and pressure from the compression garment and continue to wear it during this second period.
For more information, Dr. Sterry discusses the importance of wearing a compression garment in this blog post.
Learn more about Dr. Sterry and how he performs a better tummy tuck. Request a consultation using our online form or call our office at (212) 249-4020 to schedule your appointment.
A Reputation Built on Results
10/10 work and experience. My results are amazing, and I've received compliments from so many people...
Dr. Sterry and his staff are the absolute BEST! They're all extremely honest and trust worthy. I've...
I got a breast augmentation from Dr.Sterry in February. I felt comfortable from the very beginning....
Life Changing!! For years and years, I struggled with getting to the shape I needed. I workout 6 days...
'Dr Sterry is incredible!'
"Dr Sterry is incredible! He removed a childhood facial scar that I've spent countless amounts of money on over the years with other doctors to fix. The scar went from haunting me every time in the mirror to no longer noticeable! I also did cheek and neck liposuction with the Dr that came out amazing. No more moon face! He does an amazing job. His staff is great too!"*
—James L.
---
'Absolutely recommend him…'
Best Doctor and staff ever!!! Am 6 weeks post up did tummy tuck and I can say with all confidence Doctor Sterry have a God made hand for his profession! From consultation to surgery day and right into recovery he have been with me as well as his staff!!
Absolutely recommend him in my experience if you feel any type of fear in making this decision, he gives so much confidence….I have no regrets!! ⭐️⭐️⭐️⭐️⭐️⭐️⭐️⭐️⭐️⭐️!!*

—Christileen F.
---
'I highly recommend Dr. Sterry and his staff.'
"Dr. Sterry is not only a gem on a personal level but is also a fabulous plastic surgeon. I could not be more pleased with the results of my tummy tuck and look forward to using him again for other procedures in the future.

A bonus is his incredible staff. I could not have gotten better advice, tips and caring from Michelle, Alex and Stephanie.

I highly recommend Dr. Sterry and his staff. I had a wonderful experience."*
—Roberta G.
Ask Us About Our
Skincare Products
Financing Available
Learn More