Thomas P. Sterry, MD
1080 5th Avenue #1b
New York, NY 10128
Phone: (212) 249-4020
Monday - Thursday: 9 a.m.–5 p.m.
Friday: 9 a.m.–3 p.m.

Laser Skin Rejuvenation
Have you started to notice:
Brown spots on your face?
Broken capillaries on your cheeks or the sides of your nose?
Freckles caused by sun damage?
Enlarged pores?
To find out if laser skin rejuvenation in New York City is right for you, request a consultation with board-certified plastic surgeon Dr. Sterry or call (212) 249-4020.
Is uneven skin tone making you look older than you are? Let us tailor a laser facial or peel that will fit into your lifestyle.
Laser Skin Rejuvenation

Before & After Photos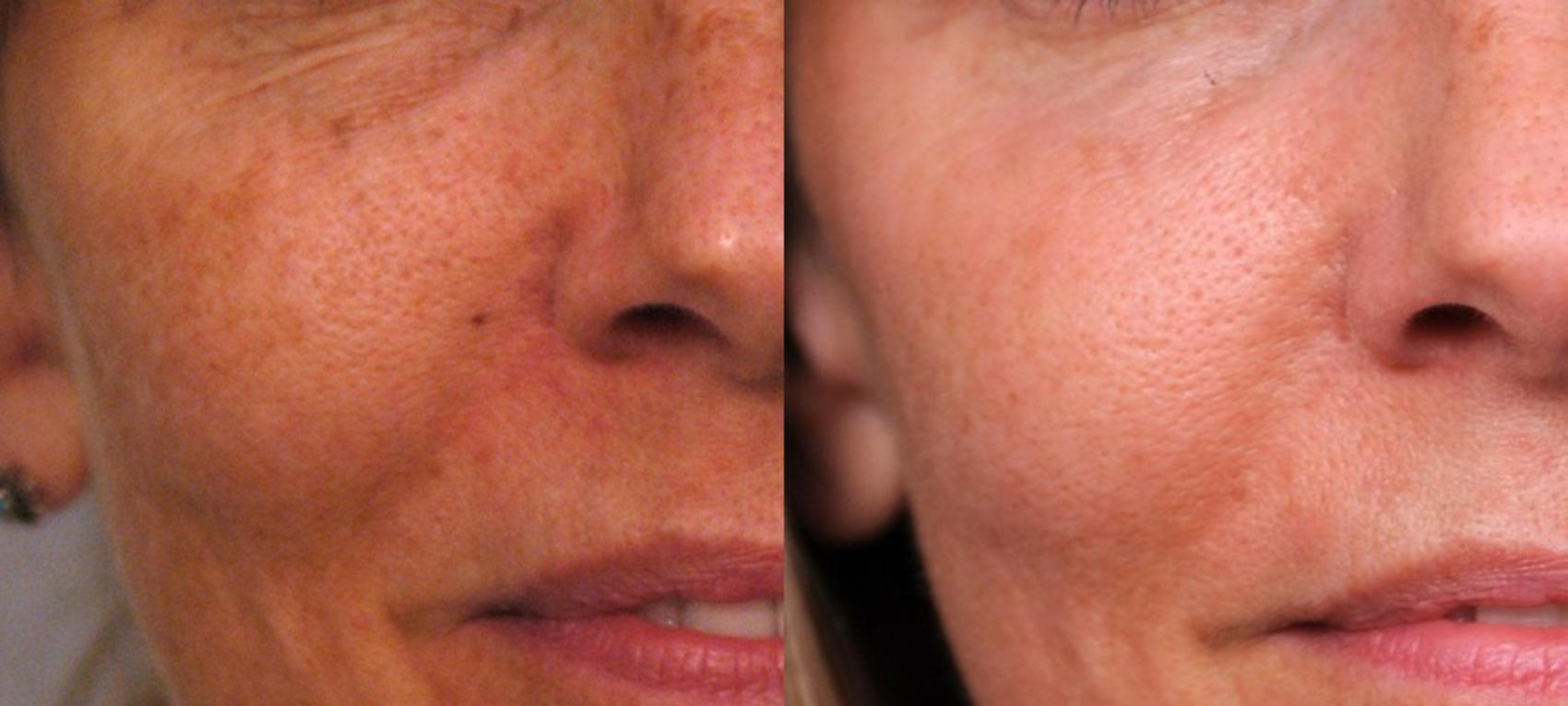 Before & After
Laser Skin Treatment for Melasma
This patient had melasma, which was treated with a laser facial peel. She is shown before and 5 days after the laser skin treatment at our New York City practice.
Read More
Keep in mind that each patient is unique and your results may vary.
---
Dr. Sterry has several state of the art lasers at the ready in his New York City office. We can custom tailor a treatment that will fit into your lifestyle and give you beautiful skin. We have both ablative and non-ablative technology available, so you don't have to have any downtime at all. Since the latest technology is tunable, we can arrange for a mild two day peel or a full laser peel which will give you beautiful skin in about 5 days!
Dr. Sterry performs several laser skin care procedures from his Manhattan office in New York City, NY including laser facials and laser peels.
If you'd like a more youthful, even skin tone and a smoother complexion—with minimal discomfort and little or no downtime—you may want to consider laser facial treatments.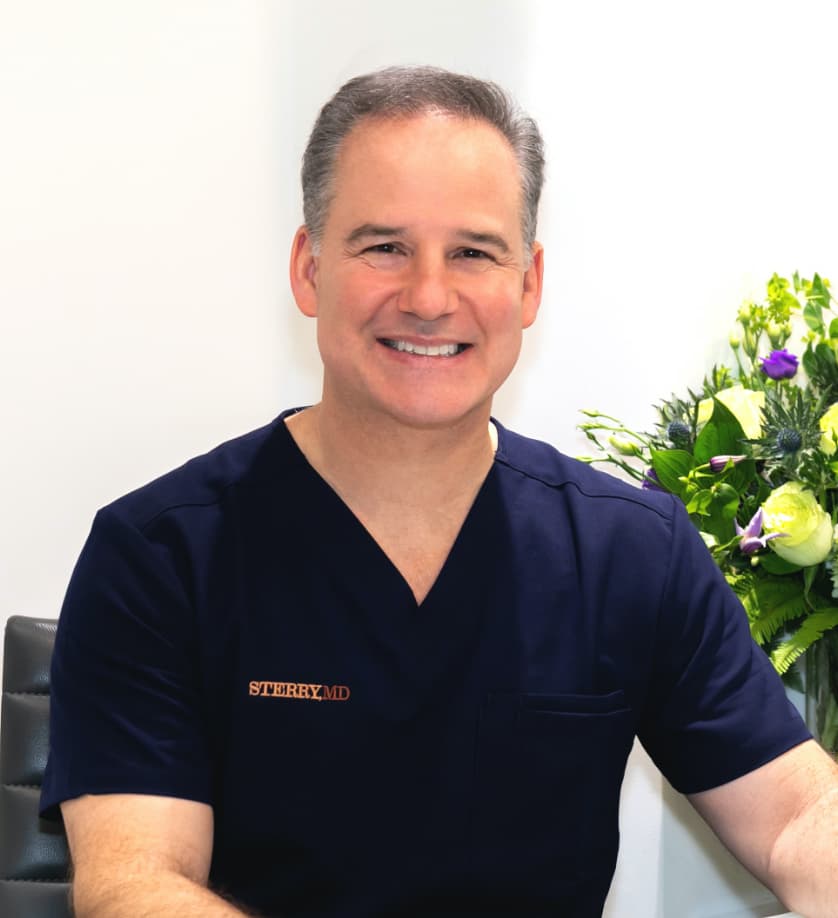 Get to Know
Dr. Thomas P. Sterry
Thomas Sterry, MD, is a board-certified New York City plastic surgeon with over 20 years of experience. He has been president of both the New York State Society of Plastic Surgeons and the New York Regional Society of Plastic Surgeons. In addition, he sits on the executive council of the New York County Medical Society and has been a delegate to the Medical Society of the State of New York for years. At his inviting, boutique-style practice in Manhattan, he focuses on each patient's unique needs and aesthetic goals so that he can provide the most attractive and natural-looking outcomes possible.
Meet Dr. Sterry
Request a Consultation
Credentials you can trust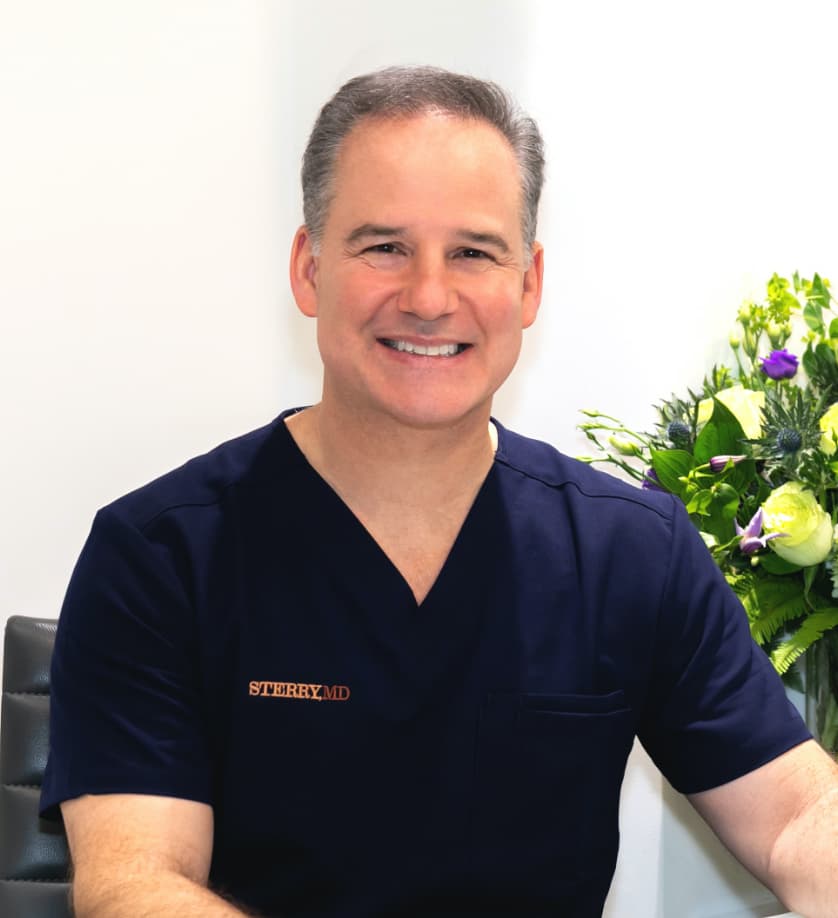 Laser Skin Rejuvenation FAQ
What is a laser facial treatment?
A laser facial treatment is a non-ablative, or non-wounding, treatment method that corrects uneven facial skin tone, such as brown spots and broken capillaries, and reduces enlarged pores through laser light energy. It also reduces the appearance of fine lines and tightens your skin a little bit.
---
What's the difference between ablative and non-ablative laser skin treatments?
Traditional full-face laser skin resurfacing is an ablative process that uses carbon dioxide and/or erbium: YAG laser to remove the entire outer skin layer, or epidermis, and portions of the underlying skin layer, or dermis. Ablative procedures involve a one- to two-week recovery period with swelling, oozing, and crusting of the skin, as well as discomfort.
A laser facial treatment, on the other hand, is a non-ablative treatment method that does not visibly disrupt the outer skin layer and thus involves little or no downtime.
---
How does the laser work?
A specific laser produces a unified-wavelength light that targets areas of hyperpigmentation. A treatment takes only 20 minutes in the office and produces very little discomfort.
---
How does the laser refine the skin's texture?
A laser facial can give you a smoother complexion by reducing enlarged pores. The heat that is generated in the deep areas of the dermis, over time, forces collagen to reconfigure itself and tighten up.
---
Which types of lasers do you use?
We use Fraxel lasers, which make your skin tone more even and reduces fine lines and wrinkles. Our Titan laser can also slightly tighten the skin.
---
What can you expect after a laser facial treatment?
This is a lunchtime treatment—you can go right back to work or your normal routine after a laser facial treatment. Some patients may experience some temporary mild redness following treatment. Because the treatment will make your skin more sensitive to the sun, you should avoid sun exposure after treatment.
---
How many laser facial treatments are needed to see results?
Typically, patients need three laser facial treatments to get the results they want.
---
What results can you expect from laser facial treatments?
By making the facial skin color more uniform and taking away some of the sun damage, laser facial treatments can make you look much younger. Think about a baby's skin—it's all one color. As we age, freckles, brown spots, broken capillaries, and acne scars can make the skin tone uneven. Laser facial treatments can erase these imperfections, or at least make them blend in more, to even out your skin tone for a more youthful look.
If you have enlarged pores, laser facial treatments can give your skin a smoother, younger-looking texture.
A Reputation Built on Results
10/10 work and experience. My results are amazing, and I've received compliments from so many people...
Dr. Sterry and his staff are the absolute BEST! They're all extremely honest and trust worthy. I've...
I got a breast augmentation from Dr.Sterry in February. I felt comfortable from the very beginning....
Life Changing!! For years and years, I struggled with getting to the shape I needed. I workout 6 days...
Ask Us About Our
Skincare Products
Financing Available
Learn More