Thomas P. Sterry, MD
1080 5th Avenue #1b
New York, NY 10128
Phone: (212) 249-4020
Monday - Thursday: 9 a.m.–5 p.m.
Friday: 9 a.m.–3 p.m.

Radiesse®
Radiesse Treats Lines and Wrinkles without the Downtime of Surgery
If you are experiencing the early signs of facial aging but you're wary of the time and money necessary for surgery, you could be a perfect candidate for Radiesse. NYC patients are coming to Dr. Sterry at his Manhattan office to receive this non-surgical treatment with the best possible care, and they leave feeling better and looking younger. One of the best parts about Radiesse is that no one will look at you and assume You've had work done.
To find out if Radiesse in New York City is right for you, [consultationrequest a consultation[/consultation] with board-certified plastic surgeon Dr. Sterry or call (212) 249-4020.
Want to treat facial lines and wrinkles with virtually no downtime? It's time to consider Radiesse.
A Radiesse injection can do the following:
Camouflage jowls
Create volume in wrinkles and lines, such as those from the nose to the mouth's corners
Create the look of fuller cheekbones
Make thin lips fuller
Reduce vertical lip lines or "smoker's lines"
Smooth acne scars and pits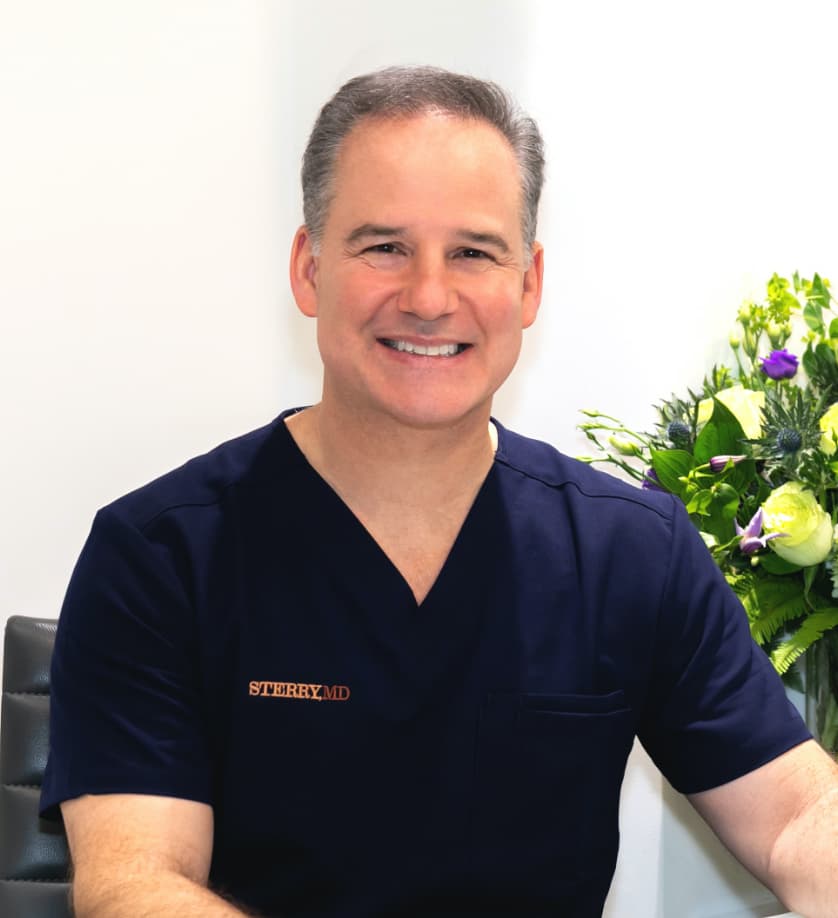 Get to Know
Dr. Thomas P. Sterry
Thomas Sterry, MD, is a board-certified New York City plastic surgeon with over 20 years of experience. He has been president of both the New York State Society of Plastic Surgeons and the New York Regional Society of Plastic Surgeons. In addition, he sits on the executive council of the New York County Medical Society and has been a delegate to the Medical Society of the State of New York for years. At his inviting, boutique-style practice in Manhattan, he focuses on each patient's unique needs and aesthetic goals so that he can provide the most attractive and natural-looking outcomes possible.
Meet Dr. Sterry
Request a Consultation
Credentials you can trust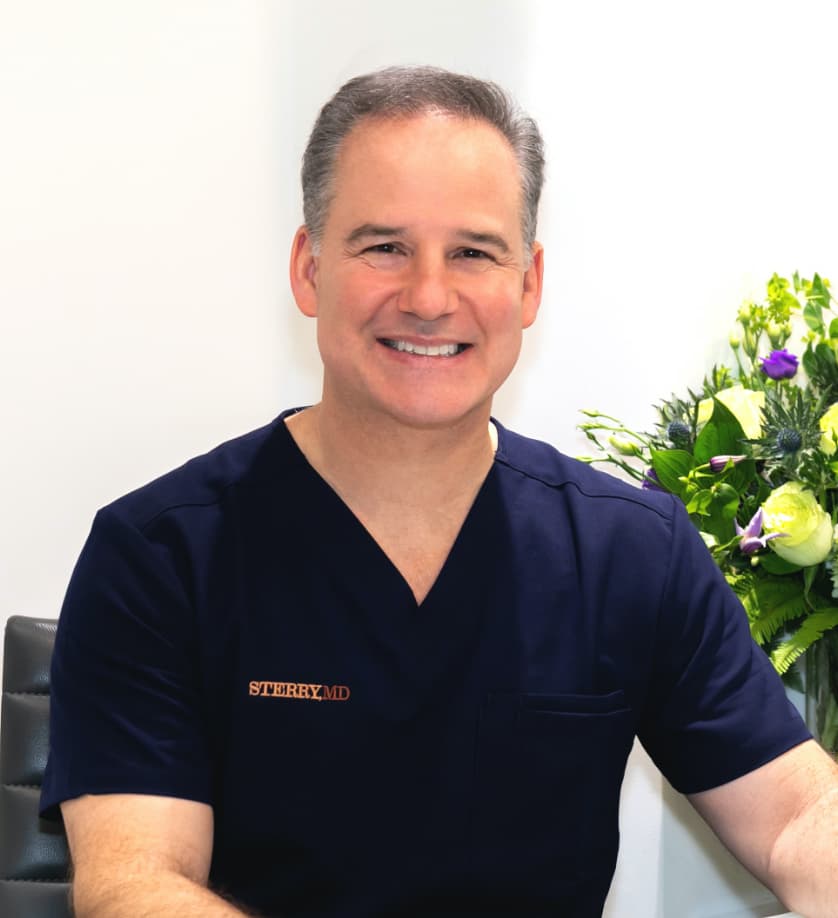 Radiesse is a safe and natural volumizer injected into the skin to add fullness and correct moderate to severe wrinkles and folds. After you have had a Radiesse injection, you can expect to feel better and look younger, but your friends and family won't be able to put their finger on what is different about you. It is a subtle change that can have meaningful results in confidence and self-esteem.
The quick recovery time is another advantage with Radiesse. NYC patients often have some swelling for a day or two, but there is no long period of recovery downtime like with surgical procedures such as facelifts. And the results are almost immediate.
Dr. Sterry performs effective Radiesse injections at his Manhattan office. Radiesse is a safe and natural volumizer injected into the skin to add fullness and correct wrinkles and folds.
If you think a Radiesse injection could be right for you, schedule a consultation with Dr. Sterry today. He will evaluate you, listen to your goals and determine the best course of action to help achieve the youthful face you desire. If he feels you are an appropriate candidate, you could get your first treatment the same day.
Radiesse FAQ
What is Radiesse?
Radiesse is a safe, natural hyaluronic acid facial filler that adds volume and fullness to the skin. This filler, from Medicis Aesthetics, corrects moderate to severe wrinkles and folds such as the nasolabial folds from your nose to the corners of your mouth.
---
What is Radiesse made of?
Radiesse is made of non-animal-based hyaluronic acid in a crystal-clear gel. The gel is biodegradable and fully compatible with the natural hyaluronic acid your body produces. This means that the possibility of allergic reactions is greatly reduced, compared to animal-derived fillers such as collagen.
---
Do you administer Radiesse injections, or does a nurse do them?
I do all the injections myself. This is just one aspect of the level of service I offer my patients. It's very popular to have nurse injectors doing facial injections, but I prefer to do them personally.
---
Do you do anything to numb the area before a Radiesse treatment?
Yes. I always give 'field' blocks or nerve blocks. There are various nerves in the face where I can inject a little anesthetic to make the patient much more comfortable during the treatment. I do that every time because it makes the treatment a much more enjoyable experience. It allows me to take my time and really concentrate on doing things right, not on relieving the discomfort by stopping as soon as possible. I also think that makes people more willing to come back and do it again.
I usually give intraoral, or in-the-mouth, injections. First, I spray a little something to numb your gums, then I inject the nerve, which you shouldn't really feel. We wait about 10 minutes while the anesthetic takes effect, then I inject the Radiesse. Doing it this way makes my patients much more comfortable.
---
How do you inject Radiesse?
That all depends on the area being treated. I think most of us use similar techniques for the lips and laugh lines, but there are some areas that doctors disagree on. Although some people prefer to inject Radiesse into the soft tissues, I like to inject it right along the bone. If I don't, you'll get little bumps and it won't look good. When I put Radiesse near the bone, it camouflages the filler. You'll see the fullness, but you can't tell the face was injected. This deep-injection technique gives an attractive, long-lasting result.
---
Is there normally any downtime after a Radiesse treatment?
Not really, although sometimes people are a little bit swollen when they leave the office and that can last for a day or two. Also, I have seen at least one patient who developed some redness that lasted almost a week, but that's about it.
---
Does Radiesse have any side-effects?
You might have some redness or swelling after a Radiesse treatment. If this occurs, it typically lasts less than seven days. It's important to avoid sunbathing and cold outdoor activities until any redness or swelling disappears.
---
How long does a Radiesse treatment last?
In my experience, how long a facial filler treatment lasts depends on where you inject it. A facial filler seems to last a long time in places that don't have a lot of motion.
For the nasolabial folds, Radiesse is great. And it seems to last a very long time in the tear trough area. On the lips, it tends not to last as long, simply because there is a lot of motion in that area.
As for the research showing that Radiesse can stimulate the skin to make its own collagen, I think this may cause the filler's effects to last a bit longer with each treatment. But I've never seen a case where a hyaluronic acid facial filler produced results I'd consider permanent.
---
What results can you expect from Radiesse?
Basically, most people just feel better about themselves. They look a little younger, but their friends can't quite tell what they've done. These subtle changes can make a big difference for a lot of folks.
A Reputation Built on Results
Dr. Sterry and his staff are absolutely amazing! I'm extremely happy with the results.
I had Smartlipo on my abdomen and flanks with Dr. Sterry a little over three weeks ago. Although it...
Very good experience with Dr. Sterry - Smart Lipo on abdomen & flanks I had Smartlipo on my abdomen...
Ask Us About Our
Skincare Products
Financing Available
Learn More