Thomas P. Sterry, MD
1080 5th Avenue #1b
New York, NY 10128
Phone: (212) 249-4020
Monday - Thursday: 9 a.m.–5 p.m.
Friday: 9 a.m.–3 p.m.

Post Weight Loss Surgery
Plastic surgery after massive weight loss presents unique challenges—for both doctor and patient. Before you undergo plastic surgery, you should understand the special issues involved in these advanced post weight loss body contouring procedures in NYC with Dr. Thomas Sterry.
To find out what procedures may be right for you, request a consultation with board-certified plastic surgeon Dr. Sterry in Manhattan or call (212) 249-4020.
Had LAP-BAND® or gastric bypass surgery?
It's time to find out about body contouring plastic surgery.
Body contouring surgery for bariatric patients is becoming a sub-specialty of plastic surgery. Dr. Sterry has dedicated a large portion of his practice to working with patients who have experienced massive weight loss, and is renowned in New York City for his skill and artistry in reshaping men's and women's bodies.
Dr. Sterry has dedicated a large portion of his practice to patients who have lost large amounts of weight after gastric bypass or LAP-BAND® surgery.
There are a host of nuances involved in performing plastic surgery on bariatric patients. Many surgical techniques that have been used for years to treat normal-weight patients are simply not effective in people who have lost 100 pounds or more. Here are a few things you should understand about body contouring surgery after massive weight loss.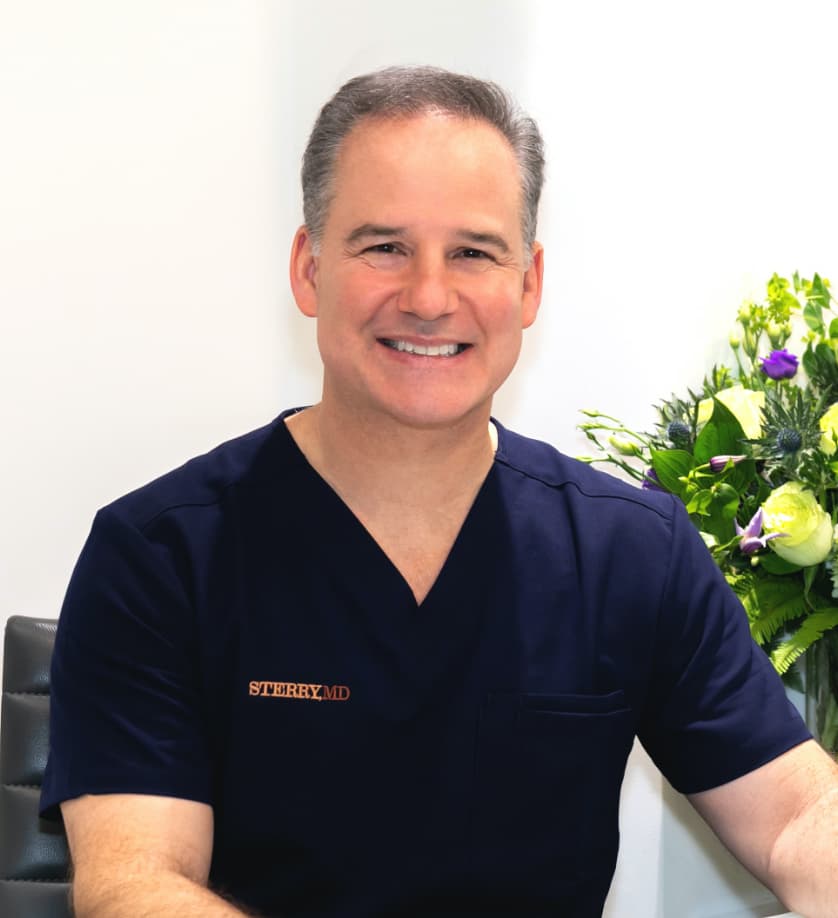 Get to Know
Dr. Thomas P. Sterry
Thomas Sterry, MD, is a board-certified New York City plastic surgeon with over 20 years of experience. He has been president of both the New York State Society of Plastic Surgeons and the New York Regional Society of Plastic Surgeons. In addition, he sits on the executive council of the New York County Medical Society and has been a delegate to the Medical Society of the State of New York for years. At his inviting, boutique-style practice in Manhattan, he focuses on each patient's unique needs and aesthetic goals so that he can provide the most attractive and natural-looking outcomes possible.
Meet Dr. Sterry
Request a Consultation
Credentials you can trust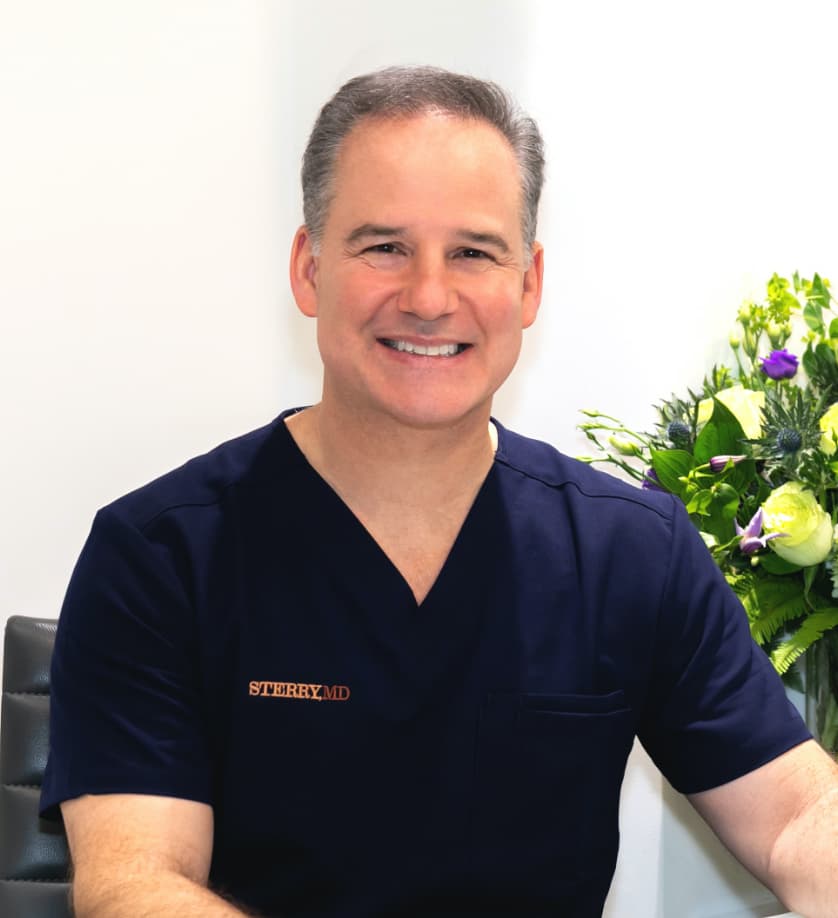 Post Weight Loss Surgery FAQ
How long after bariatric surgery should you wait to have body contouring surgery?
It is very important to be sure you have lost all the weight you plan to lose before having body contouring surgery. If you continue to lose weight after body contouring procedures, you could develop loose skin once again.
Body contouring procedures should be delayed until you stop losing weight for three consecutive months. This typically means waiting about 18 months after Roux-en-Y surgery, or two years after gastric banding or duodenal switch procedures.
---
Will the skin on the face and neck sag after bariatric surgery?
The skin of the face and neck typically tightens up fairly well after massive weight loss, but not always. Most people are so thrilled that their face looks thinner that they don't really care—or care to notice—that they have developed a 'turkey neck.'
After bariatric surgery, your face may also develop a drawn-out appearance because it has been deflated after years of obesity.
A typical facelift or rhytidectomy is designed to lift the lower portions of the face and neck up into a more youthful and slimmer position, giving better contour to your jawline and neck. A facelift also helps eliminate jowls and marionette lines around the mouth.
Like a tummy tuck following bariatric surgery, a facelift in a patient who has lost more than 100 pounds is a bit more challenging than on someone who just wants to 'freshen things up a bit.'
After massive weight loss, motor nerves and glands may have descended into areas that are usually considered "safe" by plastic surgeons. This makes those structures more susceptible to injury by a surgeon who has not performed many facelifts on bariatric patients.
---
Is it common to develop a hernia after weight loss surgery?
It is not unusual. One of the annoying facts about weight loss surgery is that many patients develop a hernia in the front of their abdomen afterward—typically near the navel if the procedure was done laparoscopically. If this is true in your case, it may be a good idea to fix the hernia and have your body contouring procedure done at the same time.
Plastic surgeons often discover previously undetected hernias while performing a tummy tuck or lower body lift and will routinely fix them at that time.
Remember, your plastic surgeon was trained as a reconstructive surgeon and will be called to assist general surgeons from time to time with major abdominal wall reconstructions. So a garden-variety hernia should not be a problem.
Still, you need to check with your doctor to know if you are a candidate to have body contouring and hernia surgery performed at the same time.
Regardless of how or when you get your hernia repaired, you will be asked to wear a special band around your waist for several weeks or months to protect you from a relapse. Recurrent hernias are common, no matter who fixes them.
---
Do bariatric patients have a higher risk of surgical complications?
Yes. To reduce the risk of complications after body contouring surgery, be sure to follow your bariatric surgeon's instructions regarding dietary supplements. It is also very important to give your plastic surgeon complete, accurate information about your medical history, including any past or present incidence of diabetes, smoking, high blood pressure, sleep apnea, and deep vein thrombosis.
---
What should you expect after body contouring surgery?
Don't be discouraged by swelling after your surgery. The swelling that develops after a major body contouring operation can be very impressive and may last for weeks or months. Don't get discouraged!
For the first few weeks, you may need to live in loose pants with an elastic waistband, but don't worry—it gets better! The swelling goes away slowly, and by three months, you can expect 85% of the swelling to be gone.
During this time, your surgeon may ask you to wear a specialized compression garment to assist with decreasing your swelling. On the other hand, the long-term benefit of compression is a debated topic among plastic surgeons, so don't be surprised if you don't get one at all.
---
Drains—an important part of recovery
Despite the fact that many patients don't like their post-surgical drains and try to talk their surgeons out of them—or into removing them prematurely—drains are an essential part of your operation.
The vast majority of surgeons who are board-certified by the American Board of Plastic Surgeons are going to use drains where appropriate, such as after a tummy tuck, lower body lift or panniculectomy. Remember that these drains are for your benefit.
The exact management of your drains depends on how you are progressing with your recovery and the overall philosophy of your surgeon. For most people, drains will be in place for at least one week after surgery, and probably until they have little fluid draining into them on a daily basis. You will likely be placed on antibiotics until all of your drains are removed.
---
You may experience changes in sensation
After any plastic surgery procedure, changes in sensation may occur.
Liposuction may make you numb in the suctioned areas for several months, but the sensation usually comes back.
Breast surgery carries some risk that nipple sensation can be decreased or lost altogether. Most of the time this also recovers, but there is no guarantee of that.
After a tummy tuck or lower body lift, you can expect to lose significant sensation, especially in the area of the abdomen from the navel down to the lower edge of the scar. This is because during the operation a large number of sensory nerves need to be cut. While some of your sensations may return over the course of six months or a year, you are likely to be partially numb for a long time. However, patients almost never complain about this. They are simply too happy to care because they have a flat belly.
---
What should you know about stitches or sutures?
A surgical wound is closed on several levels—there's more involved than simply sewing the skin closed. The most important sutures used in plastic surgery are the deep ones. The skin closure may be done in a variety of ways, but these sutures are usually buried beneath the level of the skin and should be absorbable.
You should not be able to see any sutures—or staples—in the skin unless they are holding a drain in place, or if the operation was a facelift. A respectable plastic surgeon will not close a tummy tuck incision with staples.
---
What should you realize about recovering from surgery?
Recovery is a word that means different things to different people. Your recovery from body contouring surgery will depend on which procedure you have—an upper body lift, lower body lift, tummy tuck, inner thigh lift or other surgery.
In general, your recuperation from plastic surgery will take a little longer than your recovery from weight loss surgery. Body contouring surgery on bariatric patients tends to take longer and requires larger incisions than plastic surgery on people who have not experienced massive weight loss.
A Reputation Built on Results
10/10 work and experience. My results are amazing, and I've received compliments from so many people...
Dr. Sterry and his staff are the absolute BEST! They're all extremely honest and trust worthy. I've...
I got a breast augmentation from Dr.Sterry in February. I felt comfortable from the very beginning....
Life Changing!! For years and years, I struggled with getting to the shape I needed. I workout 6 days...
Ask Us About Our
Skincare Products
Financing Available
Learn More