Thomas P. Sterry, MD
1080 5th Avenue #1b
New York, NY 10128
Phone: (212) 249-4020
Monday - Thursday: 9 a.m.–5 p.m.
Friday: 9 a.m.–3 p.m.

Chin Liposuction
At our NYC practice, the appearance of a double chin is one of the most common complaints we hear from both men and women. Even though there are now nonsurgical procedures designed specifically to reduce submental fat — the fat below the chin responsible for a double chin — Dr. Thomas P. Sterry believes that chin liposuction is the best option in most cases.
If you're looking in NYC for a plastic surgeon to perform chin, jawline, and neck liposuction, request a consultation using the online form to meet with top board‐certified plastic surgeon Dr. Sterry. Or call our office at (212) 249-4020 to schedule an appointment.
Good Chin Liposuction Candidates
How do you know if chin liposuction is right for you? The development of a double chin is often not associated with weight gain. For many patients, it's an inherited trait that can only be improved with a cosmetic procedure. Fat also tends to accumulate in the area below the chin as we age. Patients whose neck skin retains most of its elasticity can benefit from liposuction because the skin will shrink to fit the new contours.
Can Chin Liposuction Be Combined With Other Procedures?
Dr. Sterry recommends combining double chin fat removal with other plastic surgery procedures to produce a more youthful, balanced facial appearance. Options include:
Chin Liposuction vs. KYBELLA®
Men and women often schedule a consultation with Dr. Sterry to discuss the possibility of getting KYBELLA injections to improve the appearance of a double chin. After comparing liposuction with KYBELLA, they generally choose to get double chin lipo.
KYBELLA is approved by the FDA to reduce fat under the chin with a series of treatments involving multiple injections. The active ingredient targets fat cells, which gradually die. It can be an effective treatment for the right patients, but KYBELLA can't match the more dramatic results produced by neck or chin liposuction. Even though KYBELLA is considered a "no‐downtime" treatment, some patients experience significant swelling after the procedure that lasts several days.
Discussing your options with Dr. Sterry is the best way to decide which treatment suits your preferences. Dr. Sterry examines each patient carefully and honestly recommends the procedure he believes will meet the individual's aesthetic goals. The final decision, of course, is up to the patient.
Read Dr. Sterry's blog post on KYBELLA vs. chin liposuction to learn more.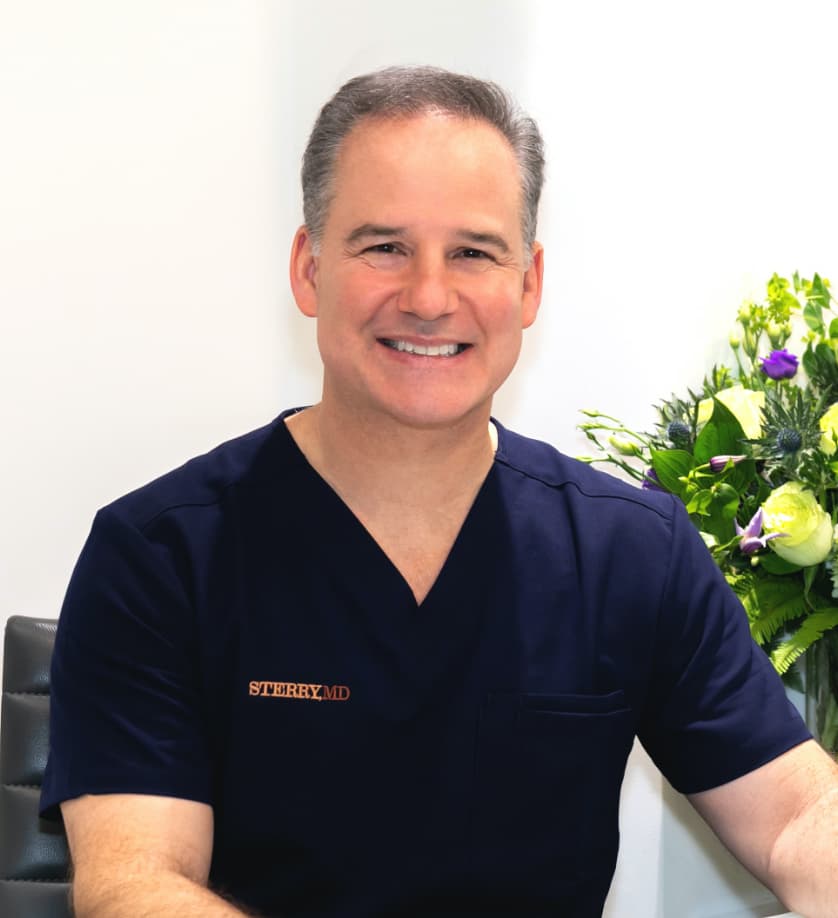 Get to Know
Dr. Thomas P. Sterry
Thomas Sterry, MD, is a board-certified New York City plastic surgeon with over 20 years of experience. He has been president of both the New York State Society of Plastic Surgeons and the New York Regional Society of Plastic Surgeons. In addition, he sits on the executive council of the New York County Medical Society and has been a delegate to the Medical Society of the State of New York for years. At his inviting, boutique-style practice in Manhattan, he focuses on each patient's unique needs and aesthetic goals so that he can provide the most attractive and natural-looking outcomes possible.
Meet Dr. Sterry
Request a Consultation
Credentials you can trust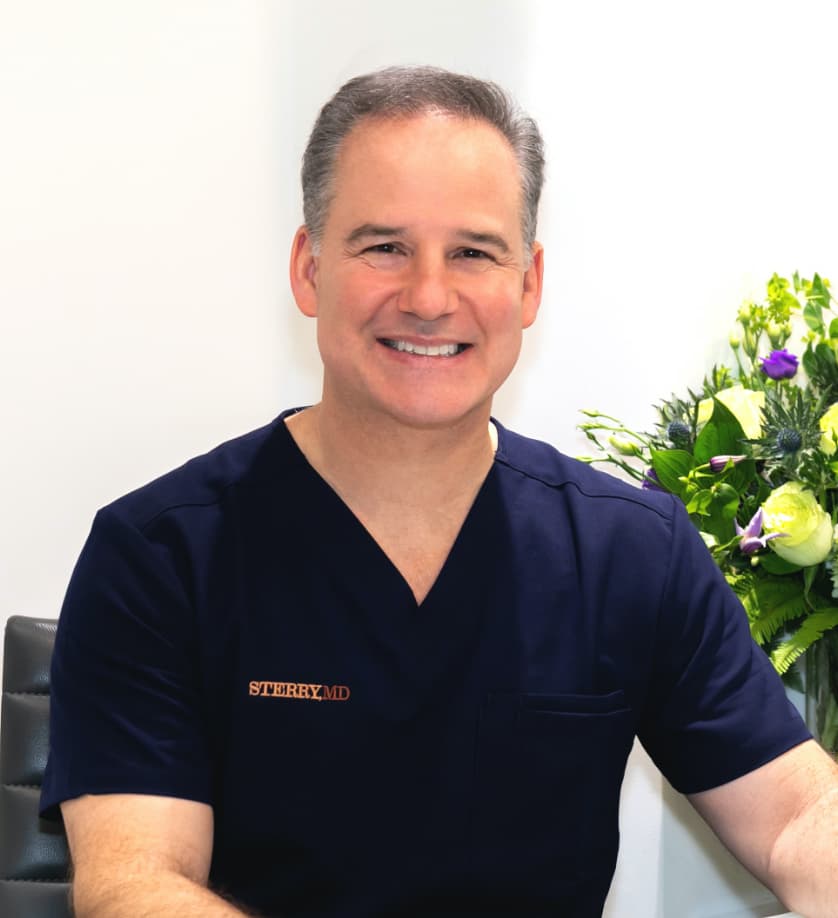 Your Procedure
Chin liposuction is a minimally invasive procedure that typically takes about 45 minutes and requires only a local anesthetic. Dr. Sterry usually performs neck, chin, and jawline liposuction using Smartlipo laser liposuction, a technique that is ideally suited for smaller areas. He inserts the tiny cannula through a small incision, and the Smartlipo laser melts the fatty tissue before it's suctioned from the neck. The heat from the laser also helps tighten the skin by stimulating the production of collagen in the treatment area.
Recovery
Dr. Sterry has his chin liposuction patients wear a special compression garment on the neck to provide consistent pressure and help produce the desired results. The garment should be worn for about 4 days. About 5 days after the procedure, Dr. Sterry removes the stitch used to close the wound where he inserted the cannula and checks on the progress of your recovery.
Results
One of the benefits of Smartlipo is that it typically causes less bruising and swelling than other forms of liposuction. That helps you see the results sooner, and many patients often notice a difference within a few days. As the residual swelling goes away over the next 4 to 6 weeks, the results become even clearer. The men and women who get chin liposuction have more well‐defined jawlines and prominent chins, creating an attractive, angular profile.
A Reputation Built on Results
10/10 work and experience. My results are amazing, and I've received compliments from so many people...
Dr. Sterry and his staff are the absolute BEST! They're all extremely honest and trust worthy. I've...
I got a breast augmentation from Dr.Sterry in February. I felt comfortable from the very beginning....
Life Changing!! For years and years, I struggled with getting to the shape I needed. I workout 6 days...
'He is clearly not just trying to make money but offers honest suggestions.'
"What an amazing and honest doctor! I was advised by other plastic surgeons to undergo face liposuction and other face tightening procedures. When I asked Dr. Sterry if he would perform these procedures, he said I was not a candidate for any such procedures. He is clearly not just trying to make money but offers honest suggestions. I have to say if i decide to do any procedures in the future, Dr. Sterry is who I will trust."*
—Melanie S.
---
'He prepared me for everything that would be expected, even the cons.'
"I've been debating for like 2 years to get chin/neck lipo. Reading, comparing prices and seeing what works best. I came across Dr. Sterrys website and after a a few months of going back and forth I decided to move forward with it. I am so happy that I waited, that I didn't rush into just any doctor. Dr. Sterry, Alex , and Dominique are amazing. I felt so comfortable with how everything was handled. He answered all my questions and his staff is so nice, professional and patient. He prepared me for everything that would be expected, even the cons. I have a few weeks for a full recovery but my experience so far has been nothing but positive. So far my results look amazing, and this is just a few days post op. Thanks Dr. Sterry!! You're amazing!!"*
—Erick C.
---
'During the procedure, he was communicative and reassuring…'
"I only have great things to say about Dr. Sterry and his skills. I had chin lipo performed about 6 weeks ago and from day 3 after the procedure, I was already so much happier and confident. He is an honest and relatable professional, and did not pressure me in any of my consultations with him. During the procedure, he was communicative and reassuring, easing any anxiety I had at the time. Recovery was a breeze for me. Also huge shoutout to his staff as they are lovely! I don't trust many doctors, but I would definitely go back to Dr. Sterry."*
—Katherine S.
---
'I can't thank them enough for the work they did!'
"Dr. Sterry and his team were the most professional and caring group of medical providers I have ever encountered. From the first consultation to months of follow up after my procedure, I felt like they genuinely took care of me and were easily accessible for any of my needs or questions.

Not only was the service above and beyond but Dr. Sterry exceeded all of my expectations with the outcome of my procedure. I had chin liposuction and the extent to which he reshaped my chin and jawline was unimaginable. I am so grateful that I did research and was able to find the BEST surgeon out there for the job.

I was absolutely terrified of needles and pretty much anything medical but Dr. Sterry and his team were so comforting and understanding that I was able to get through my procedure without any issues or even pain!
I can't thank them enough for the work they did! Not only were they able to provide me with the jawline I've always dreamed of, but also a huge boost in confidence.

As a medical provider myself, I can confidently say: I highly recommend Dr. Sterry. Not only do I recommend him but I couldn't imagine going anywhere else for any sort of plastic surgery need."*
—Michelle S.
Ask Us About Our
Skincare Products
Financing Available
Learn More