Thomas P. Sterry, MD
1080 5th Avenue #1b
New York, NY 10128
Phone: (212) 249-4020
Monday - Thursday: 9 a.m.–5 p.m.
Friday: 9 a.m.–3 p.m.

Meet Dr. Sterry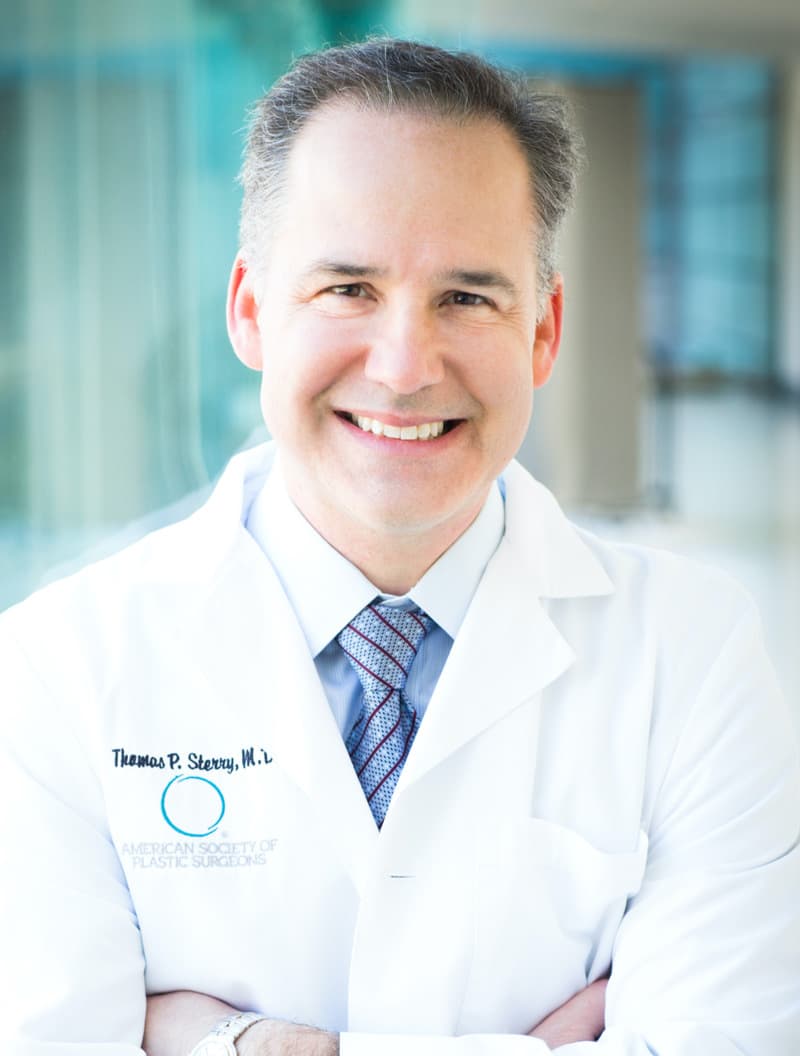 Dr. Thomas P. Sterry has always aspired to be the best plastic surgeon in NYC, and since the beginning of his career, he has been building that reputation. He understands that if the women and men he treats look fabulous, other patients will follow them to his boutique plastic surgery practice in Manhattan. That means creating results that look natural and realistic using the advanced techniques he teaches to residents as a clinical assistant professor of plastic surgery at Mt. Sinai Medical Center in New York City.
Dr. Sterry established his plastic surgery practice in 2001, and he has become known for his expertise in body contouring procedures, such as tummy tuck surgery, liposuction, permanent contouring of the face, and facial rejuvenation. He's certified by the American Board of Plastic Surgery (ABPS), and is a member of the American Society of Plastic Surgeons (ASPS).
"My patients have a million things on their mind from their daily lives. Many of them haven't got the time to research every single aspect of a treatment or a procedure. When they come to my office they entrust me to give them good, sound advice about how to help them feel better about themselves. I do all that I can to maintain that trust and deliver reliably beautiful results."
Positions at Prestigious Mt. Sinai Hospital
Dr. Sterry is a member of both the surgical staff and faculty at Mt. Sinai Medical Center, one of the nation's leading hospitals. Besides being an attending surgeon at Mt. Sinai, Dr. Sterry is also a longtime clinical assistant professor of plastic surgery. Teaching future plastic surgeons is among the ways Dr. Sterry stays at the forefront of the reconstructive and cosmetic surgery field. It's also personally satisfying. During his tenure on the faculty at Mt. Sinai, his students have presented him with awards of appreciation as an outstanding professor on 3 separate occasions.
"The most meaningful plaques on the wall of my office are from the residents I helped train who thought I did a good job."
Education & Training
After earning a medical degree with distinction in research from Stony Brook University School of Medicine, Dr. Sterry completed a 3-year residency in general surgery, followed by a 3-year residency in plastic surgery. That level of training and surgical experience is exceptional among plastic surgeons. A New York native, Dr. Sterry's education also includes a bachelor's degree from Stony Brook University and a master's degree in exercise physiology from Queens College of the City University of New York.
Caring for Your Wellbeing
Dr. Sterry is one of the leading plastic surgeons in New York, but he doesn't consider himself to be in the business of plastic surgery. That's because he's interested in his patients' overall wellness, not just how they look after surgery. One of his favorite aspects of his job is helping patients to renew their confidence and self-image.
"I have patients who won't take off their clothes in front of their husbands because they're upset about the way they look," Dr. Sterry says. "They come in for Mommy Makeover surgery and, after seeing the results, are very appreciative. I get a lot of hugs, I get a lot of nice letters from those women."
Favorite Procedures
While Dr. Sterry is highly skilled in a wide range of plastic surgery procedures, he is especially gratified by the changes he makes through the following options:
Awards & Honors
Dr. Sterry's combination of compassionate care and surgical skill has been recognized repeatedly during his career by both his patients and colleagues.
Vitals.com: Patients' Choice Award 2010, 2011, 2012, 2013, 2014, 2015, 2016; Patients' Choice 5th Anniversary Award 2014, 2015, 2016, 2017 (for earning Patients' Choice Award 6 consecutive years); On-Time Doctor Award 2014, 2015, 2016, 2017, 2018; Compassionate Doctor Recognition 2015, 2016, 2017
RealSelf Top Doctor

Super Doctors: New York 2016 through 2021: Only the top 5% of physicians can achieve this level based upon peer surveys, a blue-ribbon panel and primary research.
Consumers' Research Council of America: Named Among the Top Plastic Surgeons in America
Cambridge Who's Who
Vice President, The New York County Medical Society, 2021-2022
New York Regional Society of Plastic Surgeons: Recognized for his research (2001)
A One-on-One With Dr. Sterry
When did you first think about becoming a doctor?
There wasn't really an "ah-ha" moment that convinced me to pursue a medical career. I just always knew that I wanted to be a doctor, to be a surgeon. Not necessarily a plastic surgeon, I wanted to work in trauma.
---
Were other members of your family doctors?
No, I grew up in a blue-collar neighborhood on Long Island and my dad was a firefighter. No one in my neighborhood was a doctor. Becoming a surgeon seemed like a pipe dream, but I knew that's the path I wanted to pursue.
---
What led you to plastic surgery?
I actually thought during medical school that I either wanted to work in an ER or as a trauma surgeon. I actually didn't switch to plastic surgery until after 3 years of a general surgery residency. It was a big risk and not something I would recommend to any of my resident doctors at Mt. Sinai. But I'm truly happy I made that choice. I may not be saving their lives as I would as a trauma surgeon, but they're very appreciative because I can make them happier with the life that they have. For instance, one woman told me she used to wake up every morning wondering what she would wear to work that day because of concerns about her body. Now, she doesn't have that stress anymore because of the work we did. Plastic surgery felt liberating for her because she didn't ever think about her clothes."
---
What's different about plastic surgery compared to general surgery?
Plastic surgery is really a craft that is very visible to the public. It's about technique and is more patient-focused. When I rotated through plastic surgery as a resident, it reminded me of my neighborhood growing up, where people cared about craftsmanship and not just how fast a task could be completed. I mean, when I perform a facelift people are going to know if I did a good job or not. That's not necessarily the case performing gall bladder surgery because the work is covered up. The patient has no idea if their surgeon did a slick job or not, they only know about their experience.
---
What procedures do you enjoy performing?
That's like asking if I have a favorite child. It's truly satisfying to create results that improve a patient's confidence and self-esteem. I will say that facelifts are perhaps the most challenging. The days of simply stretching the skin tight are long gone. I want to make it look natural, like I was never there, yet make the patient look like she or he used to look. I use advanced surgical techniques to achieve those kinds of results.
---
How do you spend your free time?
With my family. My wife and I have 3 children and they spend a lot of time playing sports, so we are always busy with them. My oldest and I are also in the process of rebuilding the first car I ever owned—an old British sportscar.