Thomas P. Sterry, MD
1080 5th Avenue #1b
New York, NY 10128
Phone: (212) 249-4020
Monday - Thursday: 9 a.m.–5 p.m.
Friday: 9 a.m.–3 p.m.

Naturalift™ Mini Facelift
If you're starting to notice that your face doesn't look as young as it used to, you may be an excellent candidate for Naturalift™. These mini facelifts are minimally invasive and provide natural-looking results with the least amount of pain and recovery time possible. After Dr. Sterry performs this unique mini facelift, Manhattan patients are surprised at how quickly they see the results of looking as young on the outside as they feel on the inside.
To find out if a mini facelift in NYC is right for you, request a consultation with board-certified plastic surgeon Dr. Sterry to find out more or call (212) 249-4020.
Look as young as you feel with a Naturalift™ mini facelift.
Mini facelifts can correct the following issues:
Folds running from nose to corners of the mouth becoming more pronounced
Jowls starting to develop
Jawline less defined
Marionette lines from corners of the mouth to chin starting to develop
The Naturalift™ mini facelift can give you the younger-looking face you desire without making it obvious that you have had surgery. These minimally invasive mini facelifts do not require long periods of downtime for recovery, and scars are barely even noticeable as they heal. Naturalift™ provides natural-looking, long-lasting results that are very similar to a full facelift.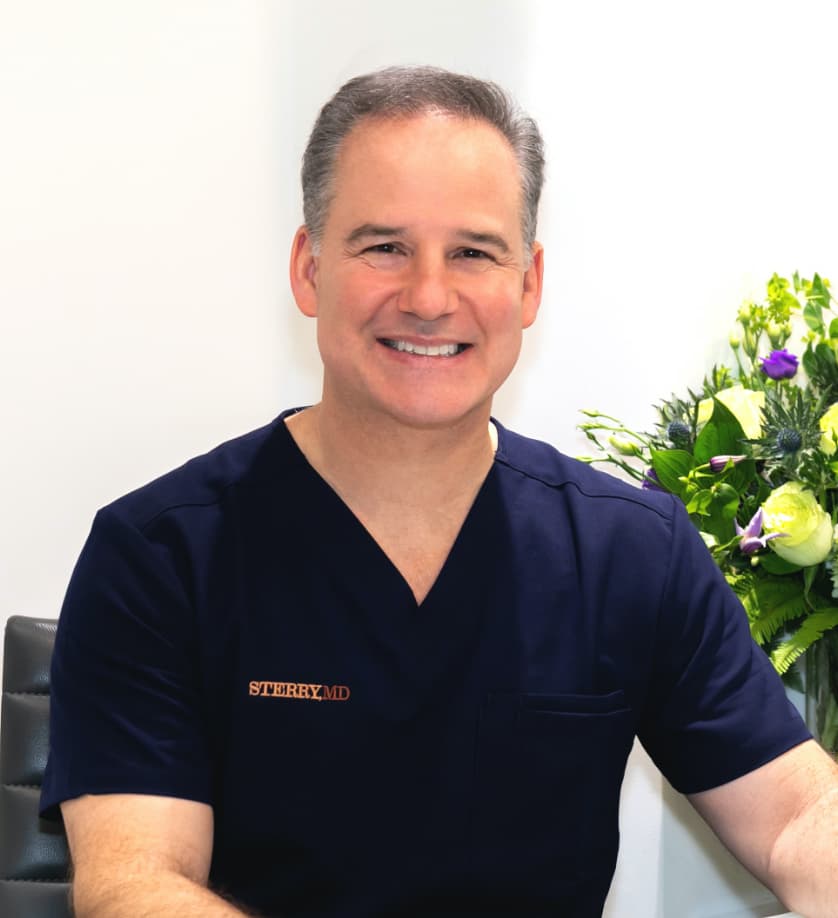 Get to Know
Dr. Thomas P. Sterry
Thomas Sterry, MD, is a board-certified New York City plastic surgeon with over 20 years of experience. He has been president of both the New York State Society of Plastic Surgeons and the New York Regional Society of Plastic Surgeons. In addition, he sits on the executive council of the New York County Medical Society and has been a delegate to the Medical Society of the State of New York for years. At his inviting, boutique-style practice in Manhattan, he focuses on each patient's unique needs and aesthetic goals so that he can provide the most attractive and natural-looking outcomes possible.
Meet Dr. Sterry
Request a Consultation
Credentials you can trust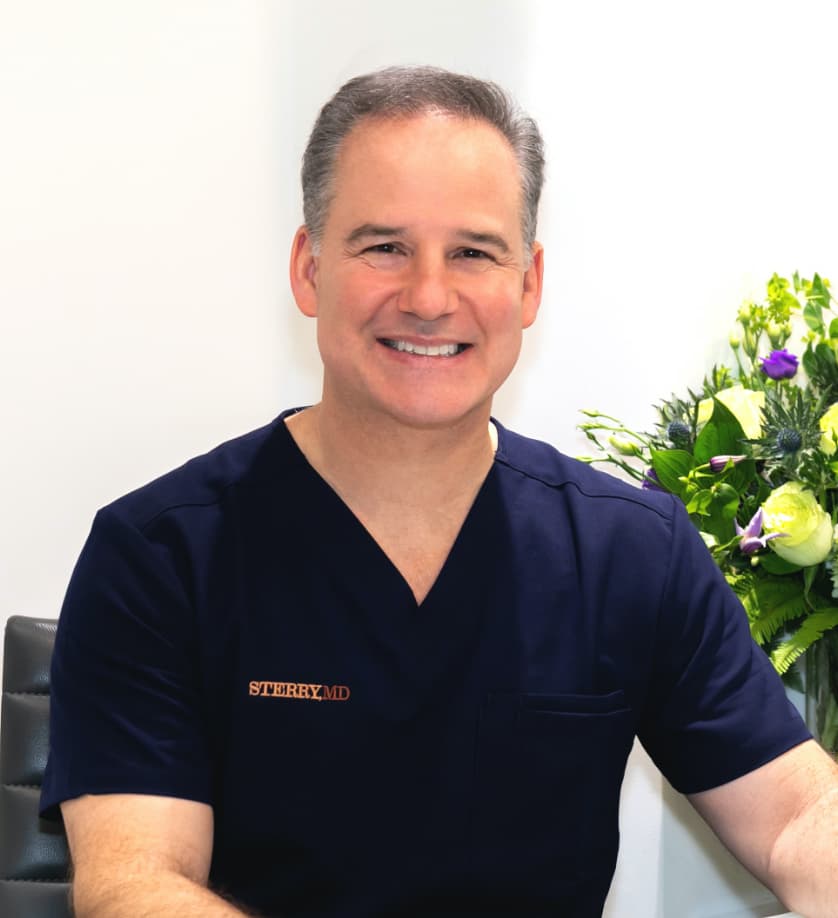 Naturalift is a mini face lift that is minimally invasive and provides natural looking results with the least amount of pain and recovery time possible. Dr. Sterry performs these at his Manhattan office in New York City, NY.
How to tell if you're a good candidate for a Naturalift™
Women and men as young as their 40s may benefit greatly from the Naturalift™ mini facelift. It may be performed as part of a Mommy Makeover to rejuvenate the face in addition to the breasts and body. New York patients aren't the only ones who have turned to Dr. Sterry and his Naturalift™ procedure to achieve their goals for a younger-looking face. People have come from all over the country to get Dr. Sterry's signature technique. Although there are many types of mini facelifts, Naturalift™ is unique because it only uses a small incision like other procedures; however, with Naturalift™, Dr. Sterry goes deeper into the facial muscles to produce remarkable, natural-looking results.
---
Naturalift™ Mini Facelift FAQ
Do most people really understand what a facelift involves?
Most people think a facelift is a facelift is a facelift. They might think that one plastic surgeon does it better than another, but I don't know how much they understand about the techniques and how many variations there are—and this is critical to really knowing what you're getting into.
---
How is your mini-facelift technique different from that of other plastic surgeons?
I've decided not to use the term "mini-facelift" to describe what I do in my practice. In my hands, I have to be more aggressive in some ways—not less—to get the best, most natural-looking results.
I've found I can get a wonderful result through a pretty small incision. So I call my technique a Naturalift™
---
What is a Naturalift™?
A Naturalift™ is essentially a big operation performed through a small hole. I'm doing almost everything I would do with a full-facelift incision—but I'm using a smaller incision to get it done.
It's a little bit more difficult to work through a smaller incision, but I'm very happy with the results—less swelling, faster recovery.
---
Where is the incision for a Naturalift™?
The incision is made from behind the hairline in the temple region and travels down in front of and then inside of the ear down to the earlobe, and stops there. It is actually camouflaged very well by your own hair and the natural lines in and around the ear.
---
How is a Naturalift™ performed?
The first thing I do in a Naturalift™ is to undermine the skin of the face, which means to lift and free the skin from the tissue below. I have found that there are some places where I undermine more than other plastic surgeons and some in which I undermine much less in an effort to make it look natural when I'm done. I don't want the patient's face to look like it's swept back.
"After my first procedure almost two years ago and wonderful results, there was NO ONE else I was going to but Dr. Sterry for my next procedure. He is amazing at his art (I'm 3 days post-op and Happy), but besides being a skilled Surgeon, he cares about his patients, really cares!"

marigold_blossom, mini lift patient on RealSelf.com

*Your results may vary.
How much undermining is involved in a typical mini-facelift?
Some mini-facelift methods involve just a little bit of skin undermining, and then, to tighten up the covering of the facial muscles—what we call the SMAS—the surgeon puts in a couple of sutures, then closes the skin and you're out. It doesn't take very long at all. Some plastic surgeons do five of these mini-facelifts in a day.
But how much can a person really expect to accomplish with just a little local anesthetic and an hour-long procedure?
---
Does your Naturalift™ technique work deeper into the muscles than a typical mini-facelift?
Yes. I like to not just put sutures in to tighten the facial muscles but to actually make a second plane of dissection—undermine, or go under that SMAS and lift that and really hoist it up and suture it very tightly—so that I can leave the skin loose and natural-looking.
---
What is the effect of going below the SMAS?
Going below the SMAS has two effects:
First, once the SMAS is tight, the skin can just be laid down over it without any tension whatsoever. That means that the skin won't look like it's being pulled back, giving the old-fashioned facelift look. It's a lot more work, but in my hands, I get far superior results this way.
Second, pulling the SMAS helps me to move volume from the lower face and shift it all upward so the mid-face and the top of the cheek where the cheekbone is becomes fuller while eliminating jowls.
I have tried many times to do less because I wanted to believe that I could just put in a few sutures to tighten things up and stop there—but I was never as satisfied as I am now that I'm more aggressive.
---
So a typical mini-facelift is above the SMAS and yours goes below it?
Many mini-facelift procedures use sutures from one part of the SMAS to another to make a 'pleat' and tighten it up, but it doesn't actually move the SMAS in relation to the underlying tissue. Those procedures don't really go under the SMAS and pull it up the way that I do in a Naturalift™
I've found that if I go below the SMAS, it might take me an extra hour or so in the OR, but I think it creates a much better result.
---
How else can a Naturalift™ improve a sagging neck?
In some cases, I will make another incision under the chin and either take out more fat, sew muscle together, remove muscle or take out some of the deep fat. It all depends on the exact anatomy that I'm working with.
---
Where is a Naturalift™ performed?
I perform Naturalifts on an outpatient basis at Mount Sinai Hospital or in one of the nearby surgical facilities.
---
How long does a Naturalift™ take?
It takes 2-3 hours, depending on what the patient needs. For example, if a patient has a lot of neck work done—if there is a lot of muscle banding or fat in the area—the surgery will take more time. It really depends on what I'm trying to accomplish.
---
What kind of anesthesia is used for a Naturalift™?
A Naturalift™ is typically done under general anesthesia; you will be asleep for the entire procedure. Or you may choose to have the procedure done under sedation.
---
How long does recovery from a Naturalift™ take?
Recovery from a Naturalift™ is pretty quick—patients can go back to work in six or seven days. If I do a full facelift, the recovery time is 10 days to two weeks.
---
Which factors determine whether a Naturalift™ is right for a patient?
It's very individualized. Skin quality has a lot to do with it. But for patients in their 40s or early 50s, with a little bit of jowling and neck sagging, and deepening of the nasolabial folds, the Naturalift™ is a great operation.
---
What results can patients expect from your Naturalift™?
I've found that with the smaller incision, I can give people a nice-looking neck, eliminate the jowls and improve the nasolabial folds. The fat that had fallen down into the jowls is moved up to the mid-face, which makes you look like you had the rosier cheeks you had when you were younger.
A Reputation Built on Results
Dr. Sterry and his staff are absolutely amazing! I'm extremely happy with the results.
I had Smartlipo on my abdomen and flanks with Dr. Sterry a little over three weeks ago. Although it...
Very good experience with Dr. Sterry - Smart Lipo on abdomen & flanks I had Smartlipo on my abdomen...
Ask Us About Our
Skincare Products
Financing Available
Learn More