Thomas P. Sterry, MD
1080 5th Avenue #1b
New York, NY 10128
Phone: (212) 249-4020
Monday - Thursday: 9 a.m.–5 p.m.
Friday: 9 a.m.–3 p.m.

Sculptra®
Get a More Rejuvenated Facial Look for Up to Two Years with Sculptra
If You've tried facial fillers or have been thinking about trying them, but you don't like the idea of having to return for frequent injections, you may want to consider Sculptra. New York patients can visit Dr. Sterry's office for a quick injection and achieve natural-looking results without having to hide at home during recovery. With Sculptra, New Jersey and New York patients can add facial volume and fullness that lasts as long as two years.
To find out if Sculptra in New York City is right for you, request a consultation with board-certified plastic surgeon Dr. Sterry or call (212) 249-4020.
Looking for a longer-lasting answer to facial aging, but don't want surgery? Consider Sculptra
Sculptra can be used to treat the following:
Deepening folds from the nose to the mouth's corners
Diminished volume in the upper face and temples
Sunken cheeks
There are many reasons to choose Sculptra. New York men and women often decide, after consulting with Dr. Sterry, that this is the right injection procedure for them because it saves time and money. It builds facial volume unlike any other injectable on the market, and since Sculptra is longer lasting and only requires a touch-up every two years, it is a great value.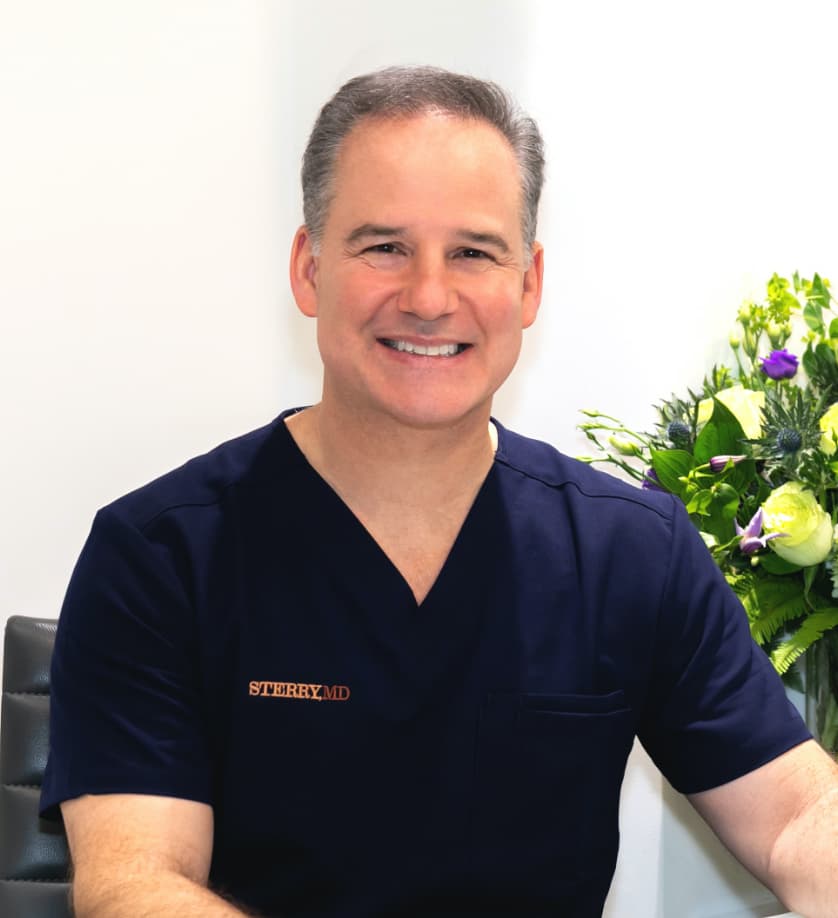 Get to Know
Dr. Thomas P. Sterry
Thomas Sterry, MD, is a board-certified New York City plastic surgeon with over 20 years of experience. He has been president of both the New York State Society of Plastic Surgeons and the New York Regional Society of Plastic Surgeons. In addition, he sits on the executive council of the New York County Medical Society and has been a delegate to the Medical Society of the State of New York for years. At his inviting, boutique-style practice in Manhattan, he focuses on each patient's unique needs and aesthetic goals so that he can provide the most attractive and natural-looking outcomes possible.
Meet Dr. Sterry
Request a Consultation
Credentials you can trust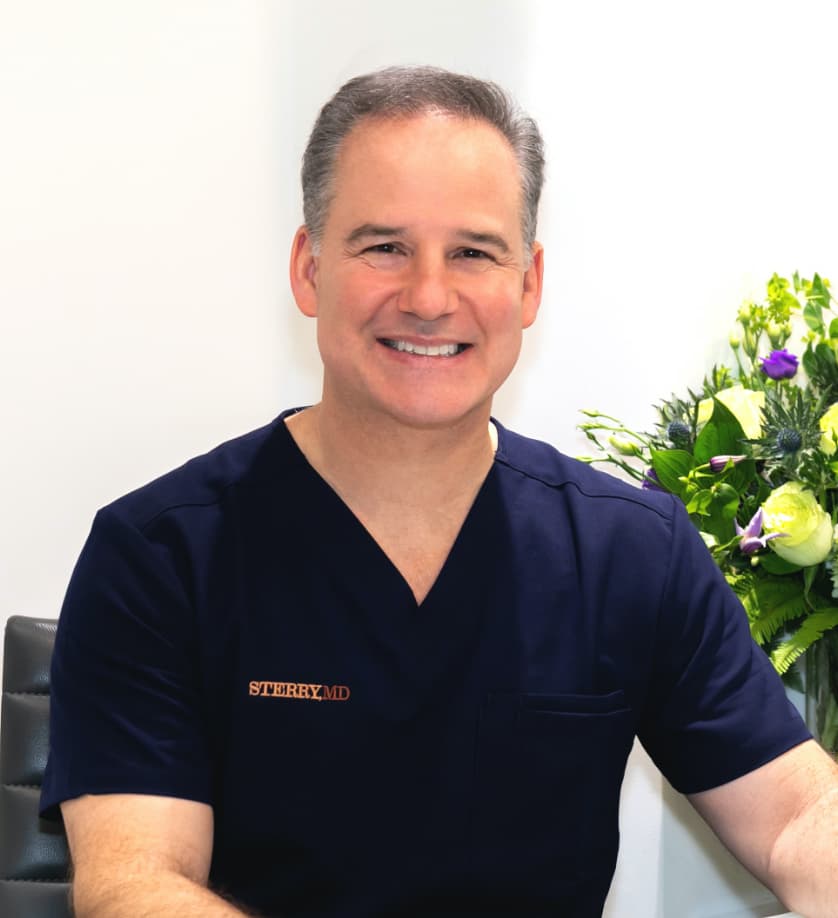 Dr. Sterry performs effective Sculptra injections at his Manhattan office. Sculptra is longer lasting and only requires a touch-up every two years.
After receiving an injection of Sculptra, New Jersey and New York patients leave Dr. Sterry's office with a slightly fuller face, which will return to its normal size in a day or two. The real results come over time when your body reacts to the treatment and begins depositing collagen in the area. This helps restore the fullness you once had in your upper cheeks and temple regions for as long as two years, and the results are quite natural looking.
Schedule a consultation with Dr. Sterry today to see if Sculptra is right for you. He will evaluate you and listen to your goals to determine the best way to achieve the look you desire.
Sculptra FAQ
What is Sculptra?
Sculptra is a facial filler made of a liquid form of poly-L-lactic acid—a biocompatible, biodegradable material that's been used for years to make dissolvable surgical stitches. It was first developed to treat patients who were taking various medications that caused facial fat to disappear—a condition known as lipoatrophy, which results in a hollowing out under the cheekbones.
But of course, we're all using Sculptra now for cosmetic purposes because it works so darn well. It's is a good product. Sculptra is more expensive than the others, but it lasts much longer. In the end, I think patients do better with it from a financial standpoint.
---
How is Sculptra used?
Some dermatologists have called Sculptra 'a facelift in a bottle.' It's not, but it really does help to give the mid-face more fullness. Sculptra is particularly good for the cheek area. I have injected it in the tear trough area, but it is not recommended for the lips.
---
How long does Sculptra last?
This is where there's a major difference between Sculptra and hyaluronic acid facial fillers like JUVÉDERM® and Restylane. Studies have shown that Sculptra lasts for up to two years.
---
When would you choose Sculptra over a hyaluronic acid filler?
Sculptra is really a better volumizer than a typical facial filler, which works best for treating facial lines. So if a patient has sunken cheeks, for instance, Sculptra might be a better choice.
---
Do you administer Sculptra injections, or does a nurse do them?
I do all the injections myself—there are no nurse injectors on my staff. When patients come to my office, I see them, I take my own photographs, I evaluate them myself and then I'm the one who injects them. And I follow up. My patients appreciate this level of personal care and attention.
---
Do you do anything to numb the area before a Sculptra treatment?
Sculptra treatments are a little less painful than hyaluronic acid injectables. I use a little bit of local anesthetic to numb the face, but it's not the same nerve block I use for JUVÉDERM and Restylane. That's because I'm injecting into a different plane. I'm not injecting right where the nerve is like I do with JUVÉDERM and Restylane; I'm injecting Sculptra below the area where most of the nerves are.
Also, the company that makes Sculptra recommends mixing it with lidocaine—a local anesthetic—prior to injection. This makes the treatment much more tolerable.
---
How is your injection technique different for Sculptra than hyaluronic acid fillers?
I don't inject JUVÉDERM or Restylane as deeply as I do Sculptra. And the injection site is a bit different, too. For instance, if I were treating someone's nasolabial folds with JUVÉDERM or Restylane, I would inject it right into the fold.
If I'm going to treat that area with Sculptra, I actually inject the cheek above the fold to try to pull that fold of skin up. If you volumize the cheek above and you put the volume back where it belongs, then that skin in the area is actually a little bit snugger.
---
How soon after a Sculptra treatment can you see the results?
After your Sculptra injection, your face will look a little bit full when you leave the office. Then, a day or two later, it will be back down to where you started. But over time, your body has a reaction to the poly-L-lactic acid and you actually do start to deposit collagen in the area—so it's your own tissue that gets built up in the area that was injected. That's why it lasts so long.
---
How many Sculptra treatments are needed to see results?
Although each case is unique, my patients typically get results with two Sculptra treatments. A few weeks after your initial session, I'll ask you to come in for a follow-up visit to see if you need any more injections.
---
What can you expect after a Sculptra treatment?
Most patients feel comfortable going back to their normal activities after a Sculptra treatment. You can apply make-up very quickly after your treatment if you have no complications.
Right after a Sculptra treatment, you may experience redness, swelling, pain, or bruising; this usually goes away in a few hours to a few days.
I recommend that you massage the treated area a few times a day for several days after your Sculptra treatment session. It's also important to avoid excessive sun and UV lamp exposure until any initial swelling and redness have disappeared.
---
What results can you expect from Sculptra?
Sculptra can help restore the fullness you once had in your upper cheeks and in the temple regions. It's a nice effect that lasts for about two years.
A Reputation Built on Results
10/10 work and experience. My results are amazing, and I've received compliments from so many people...
Dr. Sterry and his staff are the absolute BEST! They're all extremely honest and trust worthy. I've...
I got a breast augmentation from Dr.Sterry in February. I felt comfortable from the very beginning....
Life Changing!! For years and years, I struggled with getting to the shape I needed. I workout 6 days...
Ask Us About Our
Skincare Products
Financing Available
Learn More