Thomas P. Sterry, MD
1080 5th Avenue #1b
New York, NY 10128
Phone: (212) 249-4020
Monday - Thursday: 9 a.m.–5 p.m.
Friday: 9 a.m.–3 p.m.

Facelift
Don't you deserve to look as young as you feel? A facelift by NYC plastic surgeon Dr. Thomas Sterry can bring back the fresh-faced look you've been missing—without leaving the tell-tale "windswept" look of yesterday's facelifts.
To find out how a facelift in New York City with Dr. Sterry can help you look younger, request a consultation using his online form or call (212) 249-4020.
Do you look as young as you feel? A well-done facelift can bring out your natural beauty.
Dr. Sterry performs natural-appearing facelift surgery in Manhattan. Nobody has to know you've done something to freshen up. The latest techniques leave no tell-tale signs.
Chances are, you don't feel any different than you did when you were 25. But is your face starting to give away your age? When you look in the mirror, do you notice:
Loose, lax facial skin?
A slackened, jowly jawline?
Sunken cheeks?
A "turkey neck?"
| | Full Facelift | Dr. Sterry's Naturalift(SM) | Commercially Available Mini-Facelift |
| --- | --- | --- | --- |
| Anesthesia | General or sedation | General or sedation | Local |
| Surgical Facility | In-office operating room | In-office operating room | Varies |
| Duration of Surgery | At least 3 hours | 2 to 3 hours | 1 hour |
| Incision(s) | From the temple region, around the ear, into the hairline behind the ear. Additional incision possible just below the chin | From the temple region, around the front of the sideburn, in front of the ear to just behind the earlobe | In front of the sideburn, in front of the ear to just behind the earlobe |
| Neck improvement | Significant | Modest | Minimal |
| Recovery time | 2 weeks | 1 week | 3 days |
| Longevity of Results | Up to 10 years | Up to 5 years | 2 to 5 years |
"Beautifully done and I adore Dr. Sterry! His staff was wonderful too! No glitches. Felt very comfortable with Dr. Sterry. He's very down-to-earth and honest about expectations. His work is artistry and I don't know how any doc could be better."

broth, facelift w neck lift patient on RealSelf.com

*Your results may vary.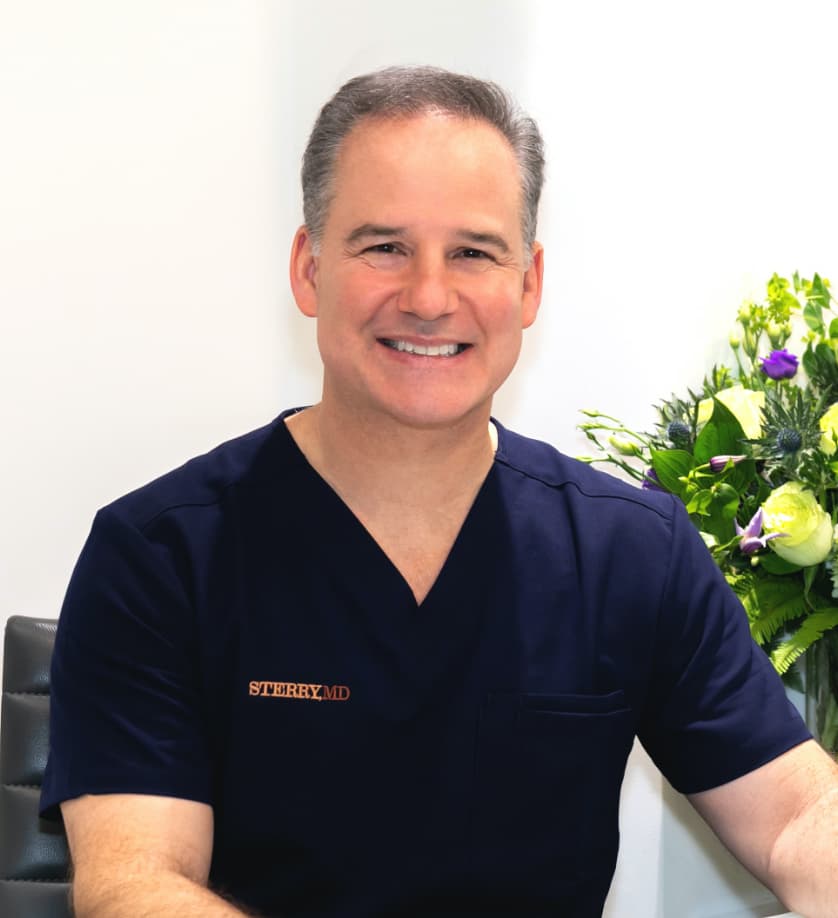 Get to Know
Dr. Thomas P. Sterry
Thomas Sterry, MD, is a board-certified New York City plastic surgeon with over 20 years of experience. He has been president of both the New York State Society of Plastic Surgeons and the New York Regional Society of Plastic Surgeons. In addition, he sits on the executive council of the New York County Medical Society and has been a delegate to the Medical Society of the State of New York for years. At his inviting, boutique-style practice in Manhattan, he focuses on each patient's unique needs and aesthetic goals so that he can provide the most attractive and natural-looking outcomes possible.
Meet Dr. Sterry
Request a Consultation
Credentials you can trust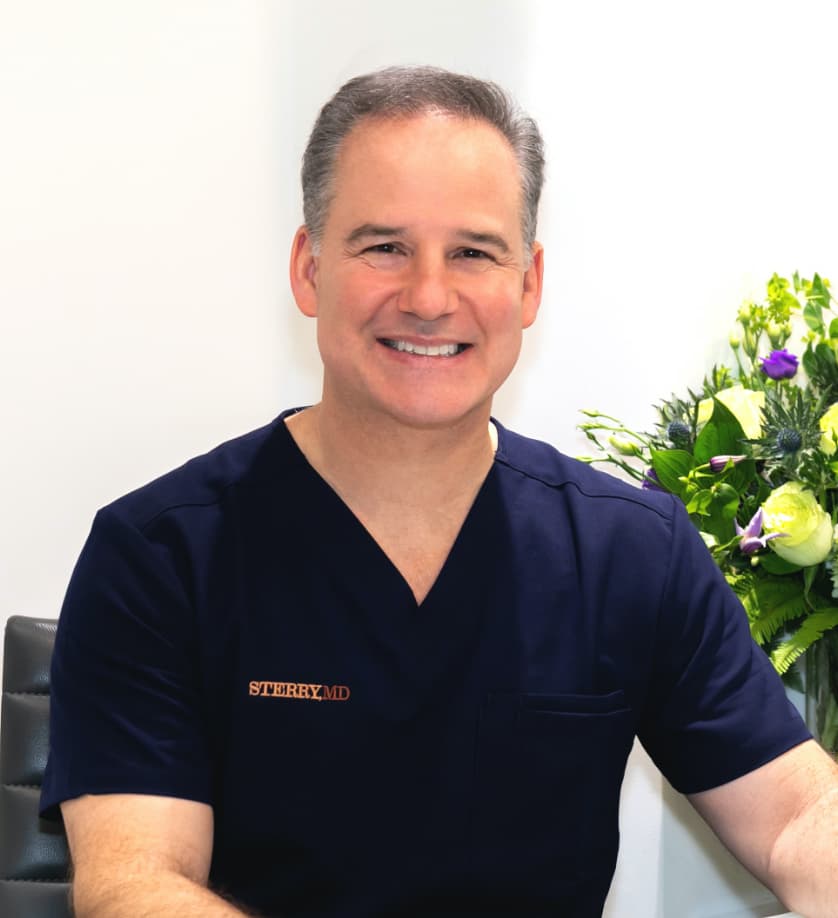 Facelift FAQ
What is a facelift?
A facelift, or rhytidectomy, is cosmetic surgery to improve evidence of facial aging, such as wrinkles or sagging skin on the face, brow, and neck.
---
Where is the incision made for a full facelift?
A full-facelift incision begins in the hairline of the temple area, continues down just inside the tragus—the part of the ear just in front of the hole in your ear—and proceeds around the earlobe and along the hairline in the back of the neck. This longer incision allows a much greater degree of lift in the neck than is possible with a Naturalift℠.
---
How is a full facelift performed?
After I've made the incision, I undermine the skin of the face so I can gain access to the deeper tissues. This is when the real magic of a facelift happens. By working with the deeper tissues, I can eliminate jowls, increase fullness in the cheek and midface and reduce the appearance of skin folds on the corners of the mouth.
After this work is done, I lay the skin down gently without any tension so it looks natural. If I've done my job well, nobody should ever know that my patients have had a facelift. They should look younger and refreshed—but not have that "operated on" look.
---
How is your full facelift technique different from other plastic surgeons'?
There are as many methods for facelifts as there are plastic surgeons…maybe more. Each of us does the best we can to achieve a nice result. I happen to be very proud of my facelift results because I think they look more natural than many others.
---
How does a full facelift help correct a sagging neck?
Because the incision for a full facelift extends to the hairline behind the ears, it facilitates pulling back on the neck skin to tighten and smooth it. The excess skin is then eliminated. Result: a smoother, younger-looking neck.
---
Do you ever use liposuction in conjunction with a facelift?
Yes, liposuction can be very helpful in eliminating jowls and getting the neck contour I want.
---
When is a full facelift a better choice than a Naturalift?
In your personal consultation, I will evaluate you and help you to understand the difference between a Naturalift and a full facelift. However, the final decision is yours. The best choice for you will also depend on your exact goals.
---
Where is a full facelift performed?
I typically perform full facelifts on an outpatient basis at Mount Sinai Hospital or in a surgery center close to my office.
---
How long does a full facelift take?
A full facelift takes about three hours or longer, depending on what the patient needs. For example, if a patient has a lot of hanging skin on his or her neck, the surgery will take more time.
---
What kind of anesthesia is used for a full facelift?
A facelift is done under general anesthesia; you will be asleep for the entire procedure. Or you may choose to have the procedure done under sedation.
---
How long does recovery from a full facelift take?
Most patients can go out in public with some cover-up makeup in about a week. You should be back to work in 10 days to two weeks.
---
What results can you expect from a full facelift?
My goal is to make you look good, not operated upon. A natural result should mean that you look like yourself, just fresher and maybe a little more enthusiastic. The most important part of a facelift is that no one who sees you on the street should be able to tell that you've had something done.
A Reputation Built on Results
Dr. Sterry and his staff are absolutely amazing! I'm extremely happy with the results.
I had Smartlipo on my abdomen and flanks with Dr. Sterry a little over three weeks ago. Although it...
Very good experience with Dr. Sterry - Smart Lipo on abdomen & flanks I had Smartlipo on my abdomen...
Ask Us About Our
Skincare Products
Financing Available
Learn More