Thomas P. Sterry, MD
1080 5th Avenue #1b
New York, NY 10128
Phone: (212) 249-4020
Monday & Thursday: 9 a.m.–7 p.m.
Tuesday, Wednesday, & Friday: 9 a.m.–5 p.m.

Eyelid Surgery
Your eyes give the first impression when people look at you, and if drooping upper lids or puffy bags are making you look older and more tired than you actually are, you could be giving the wrong impression. Cosmetic eyelid surgery, technically called blepharoplasty, in NYC with Dr. Thomas Sterry can change the way people perceive you by creating the youthful and confident image that you want to project.
To find out if eyelid surgery in NYC is right for you, request a consultation with board-certified plastic surgeon Dr. Sterry or call (212) 249-4020.
If your eyes appear tired even when you aren't, cosmetic eyelid surgery could be the solution.
If you and Dr. Sterry determine that cosmetic eyelid surgery is the best option to reach your goals, you can expect to see the following results once you heal:
Reduced drooping in the upper eyelids
Elimination of puffy bags below the eyes
Diminishing of the groove between the lower eyelid and nose
The goal of cosmetic eyelid surgery is to remove excess skin, fat, or muscle from the upper and lower eyelids. Most women and men choose to have both upper and lower eyelid surgeries at the same time, giving them a rejuvenated look and feel.
*** Eyelid surgery can also add an eyelid crease to Asian eyes without altering evidence of ethnic/racial heritage. ***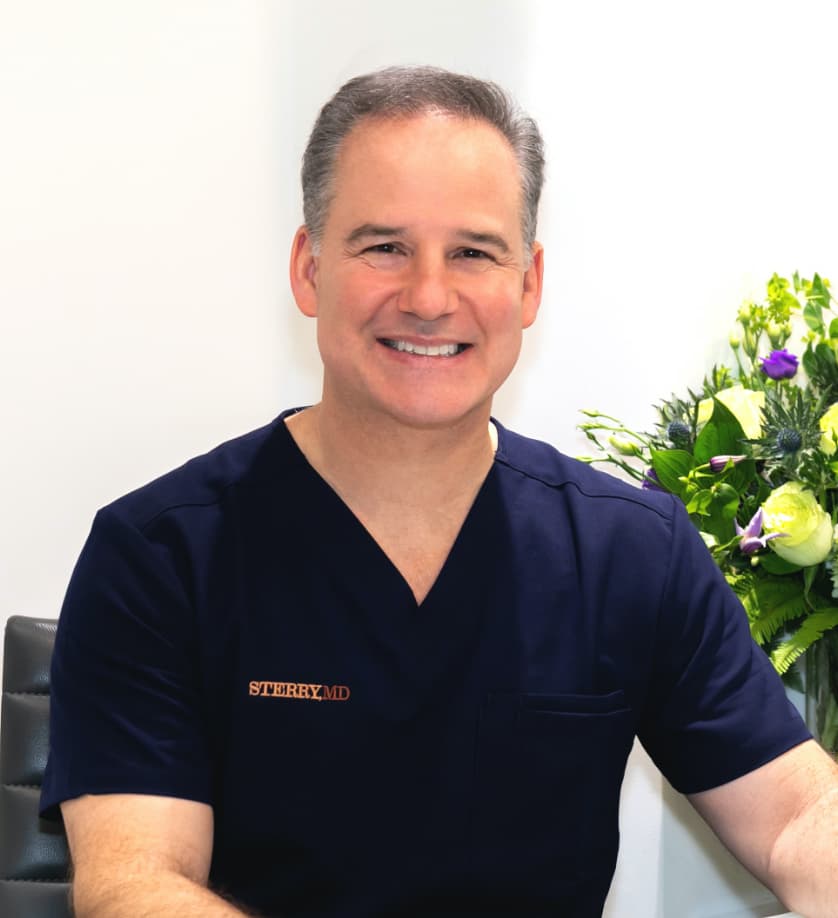 Get to Know
Dr. Thomas P. Sterry
Thomas Sterry, MD, is a board-certified New York City plastic surgeon with over 20 years of experience. He has been president of both the New York State Society of Plastic Surgeons and the New York Regional Society of Plastic Surgeons. In addition, he sits on the executive council of the New York County Medical Society and has been a delegate to the Medical Society of the State of New York for years. At his inviting, boutique-style practice in Manhattan, he focuses on each patient's unique needs and aesthetic goals so that he can provide the most attractive and natural-looking outcomes possible.
Meet Dr. Sterry
Request a Consultation
Credentials you can trust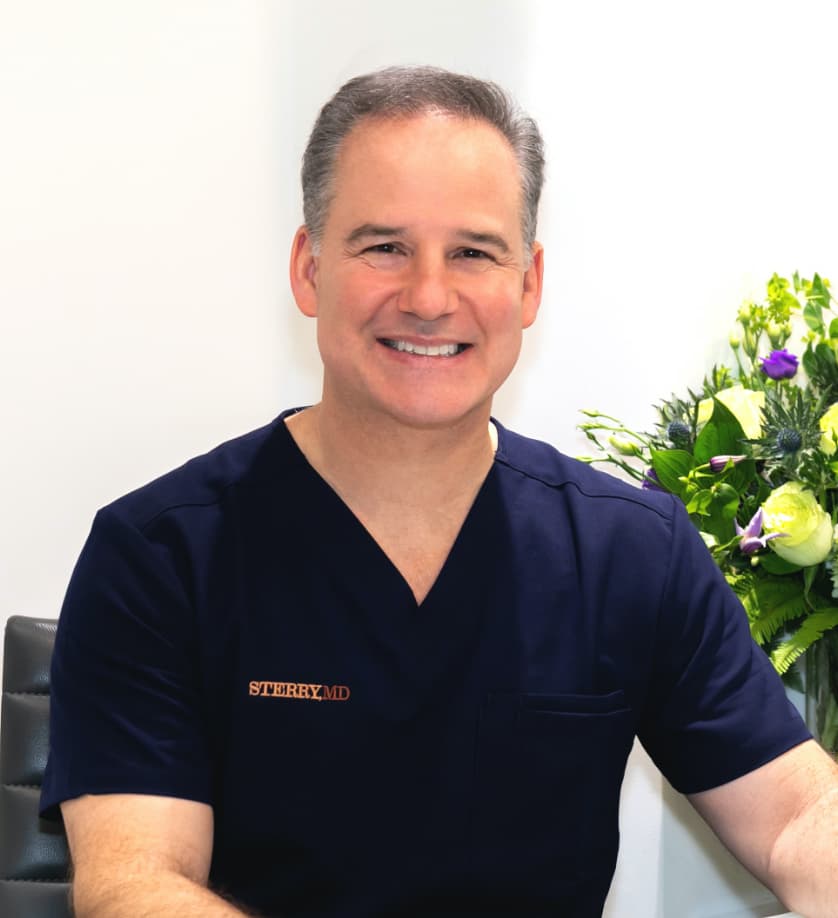 Dr. Sterry performs cosmetic eyelid surgery in his Manhattan office. This is a gentle procedure that can be done under local anesthetic. Recovery is light and by two or three weeks most people look refreshed, not like they've had surgery.
If you're experiencing the signs of aging, eyelid surgery might be your best investment. Dr. Sterry often tells patients that if they need a facelift and an eyelid surgery but can only afford one, the eyelids are the best choice because people notice your eyes first, and the procedure is less expensive. When you meet with Dr. Sterry during your consultation, he will discuss procedure options with you. Women and men often come to him looking for eyelid surgery to correct issues such as under-eye bags or overhanging upper eyelid skin. After the procedures, they realize how simple the correction for these problems is. Furthermore, they don't look like they had cosmetic surgery!
Cosmetic Eyelid Surgery
Cosmetic eyelid surgery is also often performed in conjunction with a brow lift and/or facelift to achieve the patient's desired results. Eyelid surgeries may be necessary to give the eyes that younger and well-rested look since facelifts only address issues in the lower portion of the face. Contact Dr. Sterry's office today and find out if you are a good candidate for this procedure.
Eyelid Surgery FAQ
What is eyelid surgery?
Eyelid surgery, or blepharoplasty, is plastic surgery that removes excess skin, fat, or muscle from the upper and lower eyelids. In most cases, patients choose to have both their upper and lower eyelids done.
---
What can eyelid surgery do?
Eyelid surgery can:
Correct drooping upper eyelids
Get rid of puffy bags below your eyes
Decrease the groove between your lower eyelid and your nose (the "tear trough" deformity)
Eyelid surgery can also add an eyelid crease to Asian eyes—but it can't erase evidence of racial or ethnic heritage.
---
What can't eyelid surgery do?
Eyelid surgery cannot:
Get rid of crow's feet or other wrinkles
Eliminate dark circles under your eyes
Lift sagging eyebrows.
If your eyebrows are sagging, a brow lift is probably a more appropriate option for you.
---
What do you advise patients about eyelid surgery?
Eyelid surgery is the best bang for your buck when it comes to facial surgery. It's the most overlooked facial plastic surgery procedure but has the highest yield. People notice your eyes, whether consciously or not. Patients who have eyelid surgery do very well."
If a patient needed a facelift and eyelid surgery and could afford to do only one, I'd advise him or her to do the eyelids. It's less downtime, it really makes a nice difference and the cost is much less.
Eyelid surgery is the best bang for your buck when it comes to facial surgery. It's the most overlooked facial plastic surgery but has the highest yield.
---
Is eyelid surgery usually done by itself?
No. Many times, I perform eyelid surgery in conjunction with a brow lift and/or a facelift. It's important to understand that while a facelift is very effective in rejuvenating the lower 2/3 of the face, eyelid surgery can have a dramatic effect on making your eyes look younger.
---
How is an upper eyelid lift performed?
I make an incision from the natural crease of the inside corner of the eye to slightly beyond the outside corner. Then I remove excess skin and fatty tissue from the upper eyelid. Because the incision line follows the natural contour of your upper eyelid, it is barely noticeable when it heals.
---
How is a lower eyelid lift performed?
I like to do a more invasive procedure because I think that it produces more natural results. The latest technique is called a septal reset. It really helps to blend in the junction between the cheek and the lower eyelid. The incision is made just under the lash line.
"One of the telltale signs of aging is that the distance from the lower eyelashes to the cheeks increases—the cheeks seem to descend. When I combine a facelift with a lower eyelid lift, I blend that line, making it a little unclear as to where the lower eyelid stops and the cheek starts.
"I also try to pull some of the fat over from the lower eyelid—where you might get a bag under your eye. Instead of removing that fat, I like to pull it over the top of the orbital rim—the bone there—which helps to hide what's called the tear trough.
---
Where is eyelid surgery performed?
I perform eyelid surgery on an outpatient basis at Mount Sinai Hospital, or at one of the local surgery centers.
---
How long does eyelid surgery take?
Upper eyelids are pretty straightforward; they don't take very long. Both sides, skin to skin, are probably done in 30 minutes. Lower-eyelid surgery takes 45-90 minutes, depending on the technique I use.
---
What kind of anesthesia is used for eyelid surgery?
Eyelid surgery is well-tolerated under local anesthesia. Or you may choose to have the procedure done under sedation. If you are having an eyelid lift performed in conjunction with a facelift, you may wish to have the procedure done under general anesthesia, where you will be asleep for the entire operation.
---
How long does recovery from eyelid surgery take?
Recovery takes about a week for the upper eyelids and 10 days for the lower ones. The upper lids heal more quickly because there's not that much to them. With the lower eyelids, it's a bit more obvious, but within a couple of weeks, it's hard to know that someone's had an operation. You can see something is different, but if patients are wearing some cover-up makeup, they typically do very well.
---
What results can you expect from eyelid surgery?
You can expect to have a more youthful, alert, and refreshed appearance. People may ask you if you've been on vacation—they'll notice something different, but won't realize you've had eye surgery. Best of all, eyelid surgery produces long-lasting results.
A Reputation Built on Results
Top Dr. for Tummy Tuck and Revision Cases!! I had my first tummy tuck in Nov 2020 by a Dr. in Westchester,...
Thank you Dr Sterry and the lovely staff for the smooth and reassuring process. Made sure to follow...
More than a year later, extremely pleased with how my body looks I had an a tummy tuck and liposuction...
Already see a huge difference - excited to see the final results I'm not sure where to start! I will...
Ask Us About Our
Skincare Products
Financing Available
Learn More