Thomas P. Sterry, MD
1080 5th Avenue #1b
New York, NY 10128
Phone: (212) 249-4020
Monday - Thursday: 9 a.m.–5 p.m.
Friday: 9 a.m.–3 p.m.

Neck Lift
No one wants to see loose, hanging skin on their neck when they look in the mirror. You can have this corrected with neck lift surgery. Some patients don't have loose skin but want their jawline to be more refined. This can sometimes be done with a minimally invasive Smartlipo™ procedure. In either case, New York patients have been turning to Dr. Thomas Sterry for years to help correct necklines that they feel are revealing their age. A neck lift at his NYC plastic surgery practice can give you a firmer neck and a more youthful appearance. The end result: you'll no longer avoid wearing necklaces or calling attention to your neckline. You'll be able to wear any fashion you want!
To find out if a neck lift is right for you, request a consultation with board-certified plastic surgeon Dr. Sterry or call (212) 249-4020.
Is a sagging neck making you look older than you feel?
Maybe it's time to think about a neck lift.
Neck lift surgery, also known as platysmaplasty, is a procedure that corrects sagging and wrinkled necklines by focusing on the thin sheet of muscle between the collarbone and the jaw. After consulting with Dr. Sterry, many patients also decide to have a facelift in conjunction with a neck lift surgery. New Jersey and New York patients, as well as many patients from all over the country, consult with Dr. Sterry at his Manhattan office to decide what option is best for them. Some patients are appropriate candidates for neck lift surgery without the facelift. Alternatively, patients whose main concern is eliminating double chin fat may be good candidates for KYBELLA®, a non-surgical injection treatment that targets those fat cells with no downtime at all.
Dr. Sterry performs neck lift surgery by removing fat and tightening the muscle and skin of the neck.
Dr. Sterry can complete a neck lift cosmetic surgery procedure in as little as 90 minutes on an outpatient basis at Mount Sinai Hospital in Manhattan or at a nearby surgical facility. The Smartlipo procedure can be done under local anesthesia at his New York City office. In either case, after the recovery process is complete, you will be able to hold your head high with a firmer, more uplifted neck and a well-defined jawline. Most patients say they feel years younger after this procedure and achieve the self-confidence that has been holding them back.
If you think that neck lift surgery might be right for you, Dr. Sterry is available to consult with you at his Manhattan office. During a personal consultation regarding the details of neck lift surgery, every patient gets the full time and attention of Dr. Sterry. He will evaluate your goals and determine the best course of action to achieve a more youthful appearance and overall natural beauty.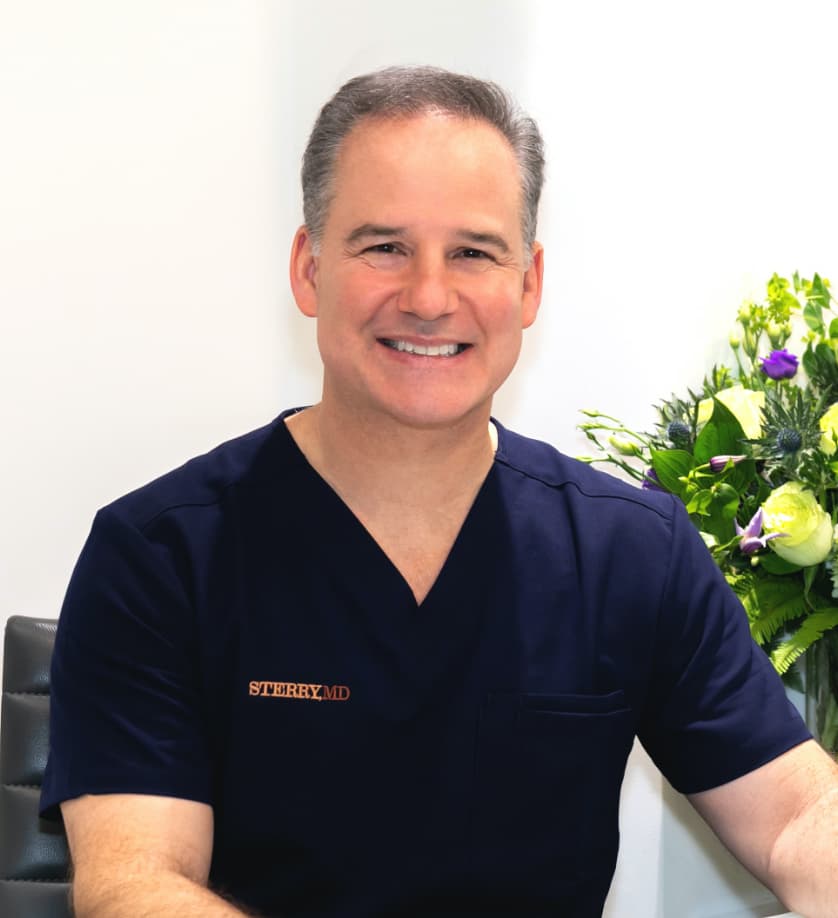 Get to Know
Dr. Thomas P. Sterry
Thomas Sterry, MD, is a board-certified New York City plastic surgeon with over 20 years of experience. He has been president of both the New York State Society of Plastic Surgeons and the New York Regional Society of Plastic Surgeons. In addition, he sits on the executive council of the New York County Medical Society and has been a delegate to the Medical Society of the State of New York for years. At his inviting, boutique-style practice in Manhattan, he focuses on each patient's unique needs and aesthetic goals so that he can provide the most attractive and natural-looking outcomes possible.
Meet Dr. Sterry
Request a Consultation
Credentials you can trust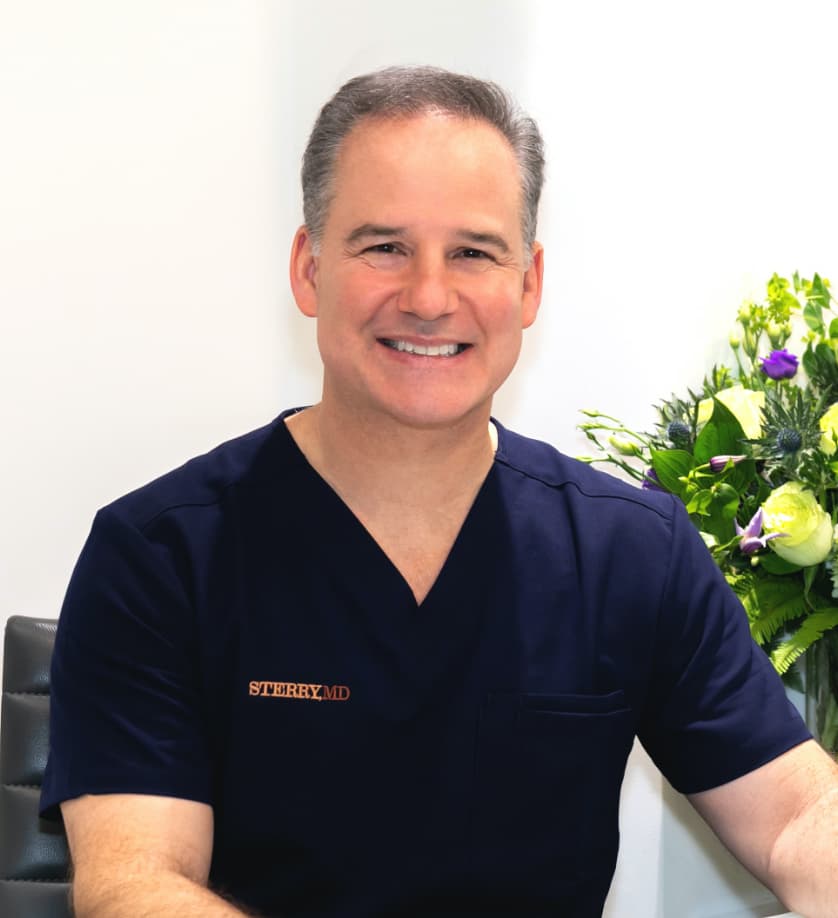 Neck Lift FAQ
What is a neck lift?
A neck lift, or platysmaplasty, is cosmetic plastic surgery to correct a crepey, sagging neck. The platysma is the thin sheet of muscle between the collar bone and the jaw.
---
Is a neck lift usually done by itself?
No. Most times, I perform a neck lift in conjunction with a facelift. I have done a few neck lifts on their own, but the best patients for that are hard to find.
---
Isn't a facelift enough to correct a sagging neck?
A full facelift, where the incision extends behind the ear and along the hairline at the back of the neck, will certainly help improve a sagging neckline.
---
What technique do you use to perform a neck lift?
The neck lift technique I prefer is called a corset platysmaplasty. The whole idea of the procedure is to bring the neck muscles together in the middle as well as on the sides. That way, you really do get a corset look and you achieve a tighter-looking neck.
---
How is a neck lift performed?
I make a one-inch incision behind each ear and another one about an inch and a half long underneath the chin, Then, I undermine all the neck skin and take away some—but not very much—of the fat underneath the platysma muscle, if it's indicated. In some cases, I use a bit of liposuction to suction out some of the fat.
Then I work with the platysma muscle, imbricating—that is, overlapping like shingles or tiles on a roof—from the right to the left, in an effort to make the angle of the jawline more acute and well-defined. I personally like the corset platysmaplasty because I'm not only going up and down the center, but also along the sides.
A lot of people say they're doing a corset platysmaplasty and they're not.
---
Where is a neck lift performed?
I perform neck lifts on an outpatient basis at Mount Sinai Hospital or a nearby surgical facility.
---
How long does a neck lift take?
A simple neck lift typically takes about 60-90 minutes.
---
What kind of anesthesia is used for a neck lift?
A neck lift can be done under general anesthesia, where you will be asleep for the entire procedure. Or you may choose to have the procedure done under sedation.
---
How long does recovery from a neck lift take?
You will need to wear an elastic bandage after surgery if liposuction was used in your procedure. The recovery time is about a week.
---
What results can you expect from a neck lift?
You will have a much more uplifted, youthful neck and well-defined jawline—which makes most patients feel years younger.
A Reputation Built on Results
10/10 work and experience. My results are amazing, and I've received compliments from so many people...
Dr. Sterry and his staff are the absolute BEST! They're all extremely honest and trust worthy. I've...
I got a breast augmentation from Dr.Sterry in February. I felt comfortable from the very beginning....
Life Changing!! For years and years, I struggled with getting to the shape I needed. I workout 6 days...
Ask Us About Our
Skincare Products
Financing Available
Learn More