Thomas P. Sterry, MD
1080 5th Avenue #1b
New York, NY 10128
Phone: (212) 249-4020
Monday - Thursday: 9 a.m.–5 p.m.
Friday: 9 a.m.–3 p.m.

BOTOX® Cosmetic
If you have started to look like you're scowling all the time and generally look older than you feel, it's possible to turn back the hands of time with the help of BOTOX® Cosmetic treatments in Manhattan with board-certified plastic surgeon Dr. Thomas Sterry. Surgery, pain, and downtime aren't required to get the look and feel you desire.
To find out if BOTOX in New York City is right for you, request a consultation with board-certified plastic surgeon Dr. Sterry or call (212) 249-4020.
BOTOX® Cosmetic treatments can help you look better, yet natural. Come in and let us show you how easy it is.
BOTOX® Cosmetic

Before & After Photos

Before & After
BOTOX® Cosmetic
This is one of my patients who wanted the vertical lines between her eyes to go away. I use BOTOX in New York City to help to relax the muscles in this area (called the "glabella") so that the skin doesn't wrinkle anymore.
Recently BOTOX has gotten a bad reputation because of a variety of high-profile celebrities who hav...
Read More

Before & After
Gummy Smile Correction With BOTOX®
This patient complained about having a "gummy smile." I knew her casually when she asked me for help with it, and she seemed quite embarassed to bring the issue up, but her wedding day was coming and she really wanted to look good for her photographs.
A dentist had suggested that an operation can be done to cut and remove th...
Read More
Keep in mind that each patient is unique and your results may vary.
---
Over the years, our facial expressions create creases, lines and wrinkles, but it's possible to manage these age-related characteristics by consulting a skilled BOTOX injector. New York patients conveniently visit Dr. Sterry's office on their lunch hour for this quick and effective treatment and get right back to work feeling rejuvenated and looking refreshed.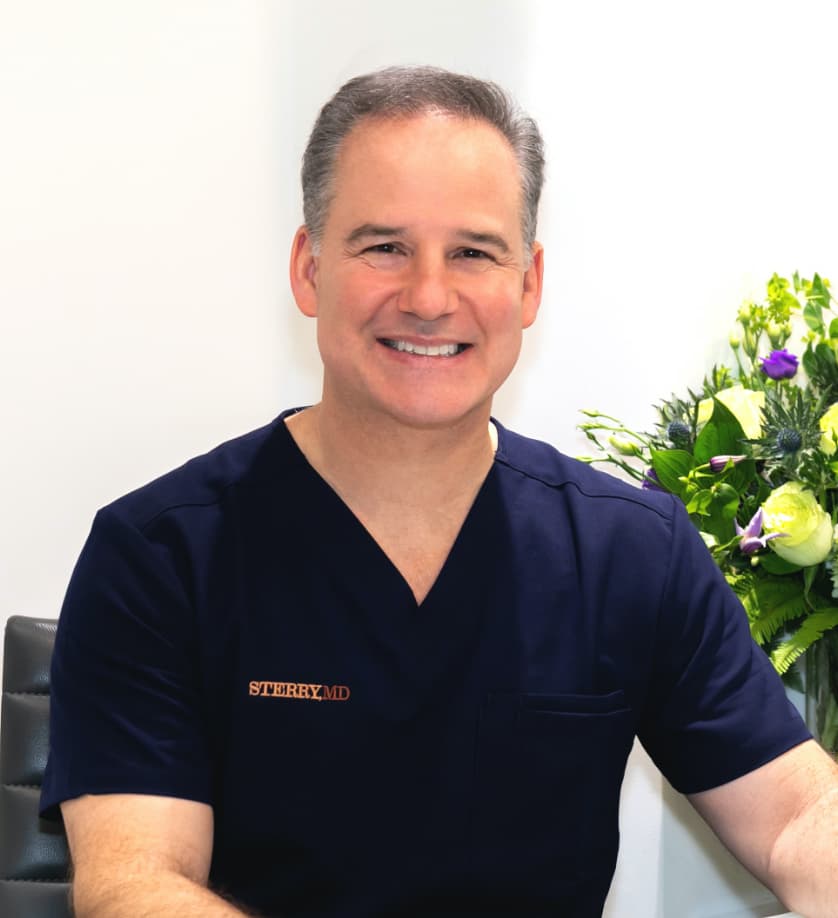 Get to Know
Dr. Thomas P. Sterry
Thomas Sterry, MD, is a board-certified New York City plastic surgeon with over 20 years of experience. He has been president of both the New York State Society of Plastic Surgeons and the New York Regional Society of Plastic Surgeons. In addition, he sits on the executive council of the New York County Medical Society and has been a delegate to the Medical Society of the State of New York for years. At his inviting, boutique-style practice in Manhattan, he focuses on each patient's unique needs and aesthetic goals so that he can provide the most attractive and natural-looking outcomes possible.
Meet Dr. Sterry
Request a Consultation
Credentials you can trust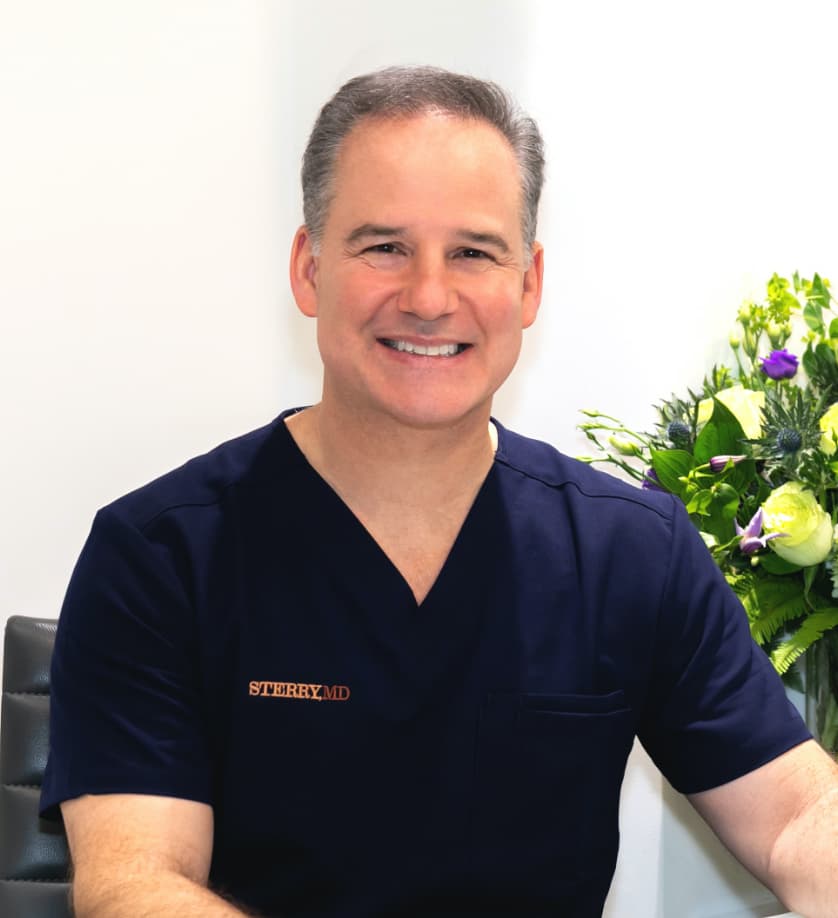 Board-certified plastic surgeon Dr. Thomas Sterry personally performs quick and effective BOTOX injections at his Manhattan office.
BOTOX Cosmetic treatments have become the most common facial enhancement for men and women in the United States. The process relaxes the muscles that create lines and wrinkles, so you can achieve a smoother and younger-looking face. In the hands of an experienced BOTOX injector, women and men can minimize crow's feet, uplift drooping at the corners of the mouth and smooth forehead, and frown lines between the eyebrows. The best part is that you're finished in no time, and you can get on with your life without having to stay at home to recover as you would with a traditional facelift.
There is no invasive surgical procedure involved with BOTOX. Surgery requires downtime for recovery, but BOTOX is simply an injection made from a purified protein. The protein, botulinum toxin type A, is released into the muscles that cause crow's feet, frown lines, and other wrinkles. By blocking the release of acetylcholine, a body chemical that signals the muscle to contract, the injection provides a more relaxed and rested look for three to four months.
Because Dr. Sterry cares about his patients and takes pride in his work, he personally performs BOTOX injections rather than having a nurse injector do this work for him. After your initial consultation, if you and Dr. Sterry decide that BOTOX is right for you, you can choose to have your first treatment at that time, or you can return for a treatment that fits into your schedule. As the protein works on the muscles, results will be visible anywhere from two days to two weeks without inconvenient recovery time. You simply watch as the BOTOX Cosmetic treatment takes its effect on your facial muscles and allows you to achieve the younger and smoother face you've been longing for.
BOTOX Cosmetic FAQ
What is BOTOX Cosmetic?
BOTOX Cosmetic is an injectable treatment made from a purified protein, botulinum toxin type A.
---
How does BOTOX work?
When injected into the muscles that cause frown lines and crow's feet, BOTOX blocks the release of acetylcholine, a body chemical that signals the muscle to contract. This relaxes the muscles in the injected areas—and gives you a more rested, refreshed look.
---
How do you develop a treatment plan for BOTOX Cosmetic patients?
I can determine where to administer BOTOX injections by testing your ability to move certain muscles in your face and neck area. This helps me see the location, size, and use of the muscles that have created the lines in your forehead, between your eyebrows, and around your eyes. This varies quite a bit from person to person.
In some cases, I can use BOTOX to achieve an effect like a mini-brow lift. I put just a dot of BOTOX at the corner of the eyebrow and the brow comes up a bit. It's a nice effect when you get just a little bit of a lift so the brow, instead of being straight across or slanted downwards, has a hint of an arch to it.
It is also possible to turn the corners of the mouth up with BOTOX. The idea is that there are muscles that pull the corner of your mouth down—so if you inject those muscles to relax them, the corners of your mouth come up a little.
---
Do you ever use BOTOX Cosmetic in combination with other products?
Yes. BOTOX can be a great adjunct to a lot of different procedures. For example, if a person has a deep frown line between the eyebrows—an area known as the glabella—I might use a facial filler like JUVÉDERM® or Restylane® to fill in the furrow. And then I'll use BOTOX to relax the muscle that caused that frown line in the first place to help keep it from coming back.
---
Do you administer BOTOX injections, or does a nurse do them?
I do all BOTOX injections myself; there are no nurse injectors in my office. These are my patients and they are entrusting me to take care of them, so I do all of the injections in my office myself.
---
Do you do anything to numb the area before a BOTOX treatment?
I can apply a topical anesthetic cream, but any discomfort you may experience during a BOTOX Cosmetic treatment will be minimal and brief.
---
How would you describe your approach to BOTOX Cosmetic?
I like to use BOTOX in moderation. You definitely don't want to be over-treated. My philosophy is that patients should look naturally better, not overdone or frozen.
---
Do you ever use BOTOX in areas other than the face?
Yes. We can make your armpits maintenance-free. BOTOX, when injected into the armpits, prevents them from sweating at all. Between laser hair reduction and BOTOX, you won't have to worry about your armpits for close to a year.
---
Is there normally any downtime after a BOTOX treatment?
No. You can literally come in on your lunch hour for a BOTOX treatment and go right back to work. This convenience appeals to both men and women—and it's a nice little pick-me-up emotionally for a lot of people.
---
How soon after a BOTOX treatment can you see the results?
This is important: it takes anywhere from two days to two weeks to see the full effect of a BOTOX treatment. Improvement may continue for as long as a month. You need to be patient after your BOTOX treatment and allow it time to work.
I have had a couple of people come back to me a week later and say, 'Oh, there's no effect.' I have to ask them to just give it a little more time because I don't want to overtreat them. And every time, it has worked out.
With facial fillers like JUVÉDERM, the effect is immediate. You're adding volume to the face, and what you see is what you get. BOTOX takes a little bit longer because it's working on the muscles, but it is effective.
---
How often do you need BOTOX Cosmetic treatments to maintain the results?
In my experience, patients need a BOTOX treatment about every three or four months. In some cases, the longer you get BOTOX treatments, the less you need them. That's actually been documented.
For instance, if you've been coming in for five years, you probably need it only once every six months—and eventually, maybe not at all. Basically, when the muscle isn't stimulated for so long, it atrophies and you don't need BOTOX anymore.
---
What would happen if a person had BOTOX treatments more often?
I've read about patients who actually go to several physicians to get BOTOX treatments more often than they should. That's probably a mistake because you can develop antibodies to it. You really shouldn't have a BOTOX treatment more often than every two months. You can, but your body will become resistant and BOTOX won't work for you anymore.
---
What results can you expect from BOTOX?
I find that patients look generally refreshed and more attractive overall after treatments. There is a reason why it's so popular!
A Reputation Built on Results
Dr. Sterry and his staff are absolutely amazing! I'm extremely happy with the results.
I had Smartlipo on my abdomen and flanks with Dr. Sterry a little over three weeks ago. Although it...
Very good experience with Dr. Sterry - Smart Lipo on abdomen & flanks I had Smartlipo on my abdomen...
Ask Us About Our
Skincare Products
Financing Available
Learn More