Thomas P. Sterry, MD
1080 5th Avenue #1b
New York, NY 10128
Phone: (212) 249-4020
Monday - Thursday: 9 a.m.–5 p.m.
Friday: 9 a.m.–3 p.m.

Breast Lift in NYC
With a good breast lift, NYC women can look and feel younger even after gravity has taken a serious toll on their bodies. You may have started to notice that your breasts aren't as high and firm as they used to be, and are considering a breast lift. In New York City and across Long Island, surgeons are not all the same; therefore, if you want to turn back the clock and have a positive experience with your cosmetic procedure, you need to be discerning.
To find out if a breast lift can give you the improvements you want, request a consultation with board-certified plastic surgeon Dr. Thomas Sterry to find out more or call (212) 249-4020.
Breast Lift

Before & After Photos
WARNING:
This feature contains nudity. Please click OK to confirm you are at least 18 years of age and are not offended by such material.
Is gravity taking its toll on your breasts? Look younger with a breast lift.
There are many reasons why you might be considering a breast lift. Women whose breasts have started to sag after pregnancy, or who have lost so much weight that their breasts have started to droop can choose this surgery to restore their natural look. Or maybe it's simply that age and gravity have taken their toll. These are all good reasons to look and feel better with a breast lift. Manhattan patients have been trusting Dr. Sterry to take care of their cosmetic needs for many years.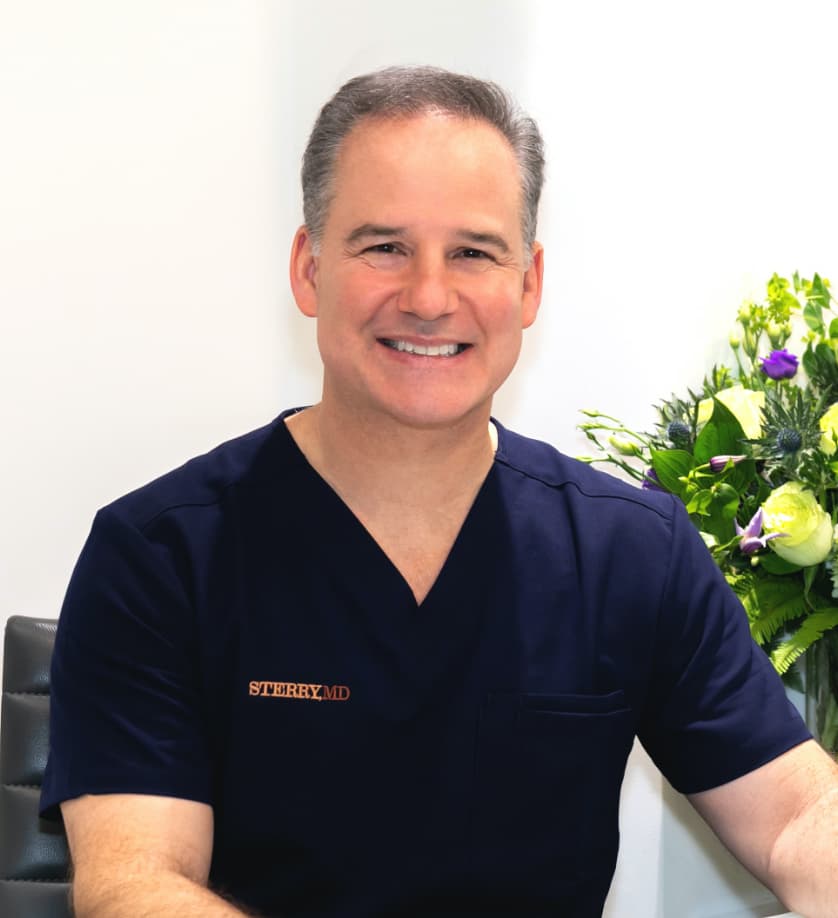 Get to Know
Dr. Thomas P. Sterry
Thomas Sterry, MD, is a board-certified New York City plastic surgeon with over 20 years of experience. He has been president of both the New York State Society of Plastic Surgeons and the New York Regional Society of Plastic Surgeons. In addition, he sits on the executive council of the New York County Medical Society and has been a delegate to the Medical Society of the State of New York for years. At his inviting, boutique-style practice in Manhattan, he focuses on each patient's unique needs and aesthetic goals so that he can provide the most attractive and natural-looking outcomes possible.
Meet Dr. Sterry
Request a Consultation
Credentials you can trust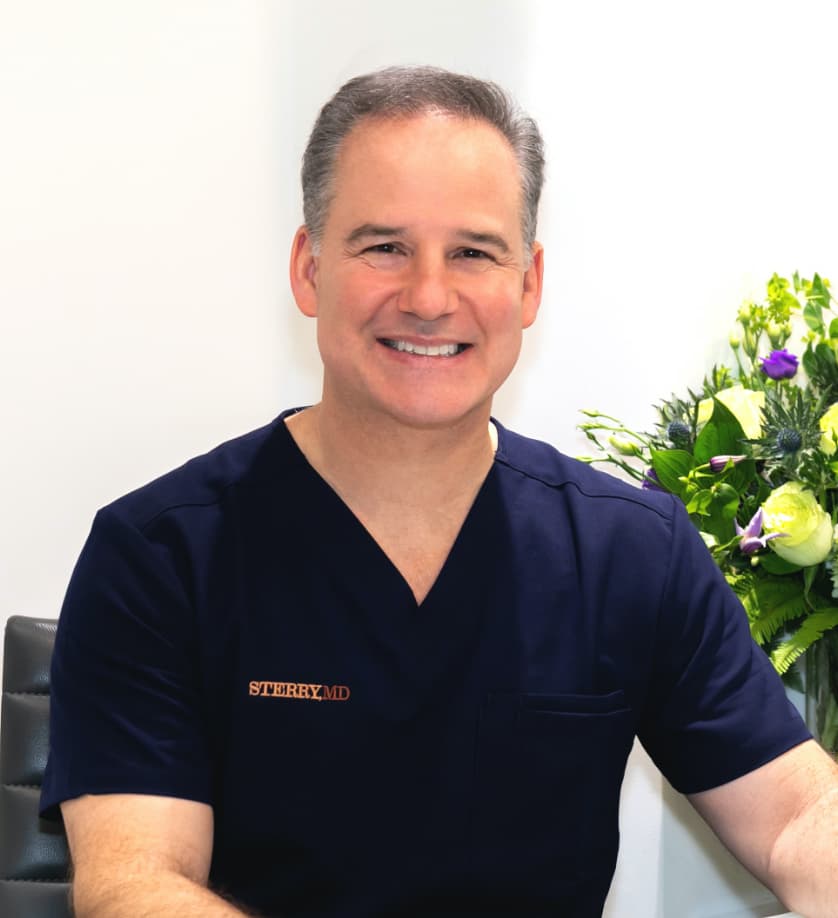 Achieve the Younger Look You Desire With a Breast Lift
Dr. Sterry's breast lift procedure helps women reclaim youthful-looking breasts after pregnancy, weight loss, or simply the effects of aging.
Breast lifts, otherwise known as "mastopexy", can help provide a more uplifted and youthful shape.
You may be a good candidate for a breast lift. New York women with these breast issues should consider a breast lift surgery:
Breasts lack substance
Loss of firmness
Hanging excessively
Nipples point downward
One breast is firm and developed and one is not
Breasts of any size can be lifted, but the results last longer for women with smaller and lighter breasts. Women with larger breasts may have better results with a breast reduction.
There are several breast lift techniques, which Dr. Sterry will consider as he evaluates you for surgery, including the wise pattern, the "lollipop" pattern, the periareolar technique, and the crescent technique. Dr. Sterry may also use liposuction in some cases to improve the contour on the sides of the breasts.
At your consultation with Dr. Sterry, he will determine if you are an appropriate candidate and you will learn about the breast lift costs.
Breast Lift FAQ
What is a breast lift?
A breast lift is cosmetic plastic surgery to raise the breasts and create a fuller, more youthful appearance. This procedure can rejuvenate your figure by restoring the breast shape that is often lost over time. In medical terms, a breast lift corrects ptosis (sagging).
A breast lift procedure repositions the nipples and reduces the size of the areola, or the pigmented area that surrounds the raised nipple. Occasionally, breast implants may be needed if you have lost breast volume due to extensive weight loss or after pregnancy.
---
Does a breast lift reduce the volume of breast tissue?
No. Patients who come in for a breast lift consultation always ask, 'You're not going to take anything away from me, right?' A breast lift does just what the name implies—it simply lifts your breasts to a higher position.
---
Will a woman's bra size change after a breast lift?
No. With a breast lift, we don't want to take any volume away. And we're certainly not adding any unless you opt for implants. What a breast lift does is take away skin and remodel the breast tissue itself to have a nicer presentation.
---
Could implants alone get the same results as a breast lift?
Sometimes, breast implants alone can give a wonderful result if it's a modest case of sagging—particularly in women who have given birth. There's a condition called pseudo-ptosis, where the nipples are still above the inframammary crease below the breast, but the breasts appear droopy because the upper part of the breast is somewhat flattened.
Women with pseudo-ptosis might think they need a breast lift, but they don't actually need all the scars associated with that procedure. If we just put implants in, it will have the effect of lifting the nipple and volumizing the breast. And the woman's breasts will look much more like they did before having children.
For a woman with grade 1 or even grade 2 ptosis, where the nipple is at or slightly below the breast crease, implants can sometimes help. It's all a matter of how big you want your breasts to be. The more lift you want, the larger the implant needs to be—and I don't like to make women's breasts look unnaturally large.
---
Can you restore breast fullness above the nipple?
Yes, but that requires implants. When I do a breast lift, I try to make it clear that I can get fullness behind the nipple. Sometimes women need a breast lift because their nipples are facing downward—or even straight at the floor. I can give you a nice lift with fullness behind the nipple. But above the level of the nipple, the breasts really not going to be full unless I put an implant in.
At the time of a breast lift, the breasts may look very full post-operatively for a few weeks. But eventually, gravity always wins—they're going to get pulled down a bit. The breasts will still look very tasteful and very natural, but they're not going to have the same presentation as implants will. If you want fullness above the nipple, you need implants.
---
Will insurance pay for a breast lift?
No. Sometimes, an insurance company will cover a breast reduction, which removes excess breast volume. Before an insurance company will cover any plastic surgery procedure, you need to prove that it is medically necessary.
---
Which breast lift surgery technique do you prefer?
The techniques I use most often are the lollipop incision and the Wise pattern; it's a matter of tailoring the procedure to the patient.
---
Does a breast lift involve reducing the size of the areola?
In most cases, yes. But there are some women getting a breast lift who really don't need the size of the areola reduced.
---
Can a woman still breastfeed after a breast lift?
Yes. Since a breast lift takes away only skin, as opposed to glandular breast tissue, the volume of milk a woman produces after having the procedure shouldn't be any different. It's still a good idea to monitor your baby to be sure he or she is getting enough milk from the breast—and, if necessary, supplement with formula.
---
When is a good time to have breast lift surgery?
In most cases, I advise women to wait until they're done having children before having a breast lift. Why? The effects of pregnancy can cause the breasts to sag—which could undo the results of a breast lift to some degree.
---
Does breast lift surgery require a hospital stay?
Breast lift surgery alone does not usually require a hospital stay. Your procedure may be performed in a hospital, an outpatient surgery center or an office-based surgical suite.
However, if you have a breast lift as part of an upper-body lift, you can expect to spend one night in the hospital.
---
How long does breast lift surgery take?
Breast lift surgery takes 1-2 hours.
---
What kind of anesthesia is used for breast lift surgery?
Breast lift surgery is performed under general anesthesia; you will be asleep during the entire procedure.
---
What should you expect immediately after a breast lift?
When you wake up after the procedure, you will be wearing a surgical bra. You could have surgical drains in place, which will be removed the next morning. Although you will experience some soreness, most breast lift patients do not complain much about pain.
You'll be taken to a recovery area where you'll be closely monitored for a few hours before going home.
---
How long does it take to recover after breast lift surgery?
Most patients recover from breast lift surgery in a few days or a weekend. You'll have some soreness, but nothing major.
Two days after breast lift surgery, you will be able to shower, and you can return to work as long as it does not involve a great deal of manual labor.
---
What results can you expect from breast lift surgery?
Your breasts will look more youthful and uplifted and will feel firmer after breast lift surgery. The position of your nipples and areolae will be higher and your areolae will be more attractively proportioned.
Although breast lift surgery leaves permanent scars, your incision lines will fade over time and the scars will be easily concealed under clothing—even under most swimsuits and low-cut tops.
A Reputation Built on Results
Dr. Sterry and his staff are absolutely amazing! I'm extremely happy with the results.
I had Smartlipo on my abdomen and flanks with Dr. Sterry a little over three weeks ago. Although it...
Very good experience with Dr. Sterry - Smart Lipo on abdomen & flanks I had Smartlipo on my abdomen...
Ask Us About Our
Skincare Products
Financing Available
Learn More