Thomas P. Sterry, MD
1080 5th Avenue #1b
New York, NY 10128
Phone: (212) 249-4020
Monday - Thursday: 9 a.m.–5 p.m.
Friday: 9 a.m.–3 p.m.

Breast Augmentation in NYC
There are many factors to think of when considering breast augmentation and implants. In NYC (Manhattan) and beyond, doctors are not all the same; so it's important to find the one like Dr. Thomas Sterry who will carefully consider your needs. A breast augmentation surgeon should be able to spend an hour with you on your first consultation and never leave you waiting. He or she should consider your unique needs and the contours of your body when creating a surgical plan for you. When it comes to breast augmentation, you should never settle for less than this kind of personalized care.
Find out how breast augmentation in New York City can improve your appearance. To get started, request a consultation with board-certified plastic surgeon Dr. Thomas Sterry or call (212) 249-4020.
Breast Augmentation

Before & After Photos
WARNING:
This feature contains nudity. Please click OK to confirm you are at least 18 years of age and are not offended by such material.
Have you always wanted larger breasts?
Consider breast augmentation.
If you've always wanted fuller and more beautiful breasts, you're not alone. The American Society for Aesthetic Plastic Surgery reports that 311,959 breast augmentation procedures were performed in 2009, making it the most popular cosmetic surgical procedure in the United States. Luckily, Manhattan and Long Island clientele do not have to go far for breast augmentation surgery. Dr. Sterry offers the most cutting edge surgical techniques, and he and his staff are dedicated to making the experience pleasant and successful for each patient.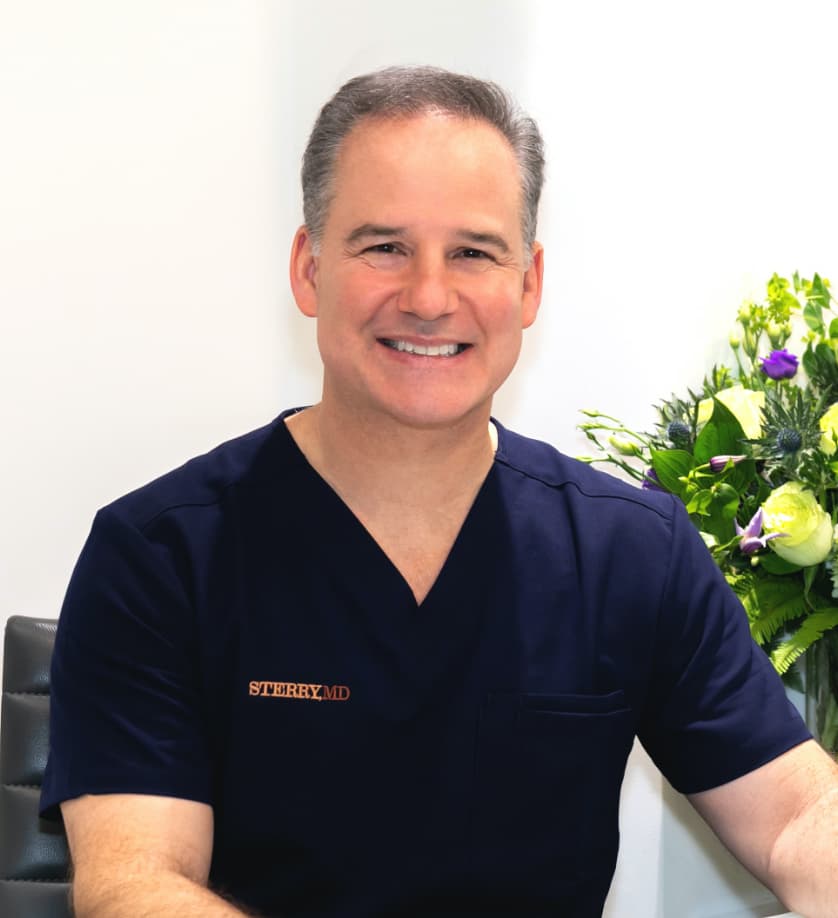 Get to Know
Dr. Thomas P. Sterry
Thomas Sterry, MD, is a board-certified New York City plastic surgeon with over 20 years of experience. He has been president of both the New York State Society of Plastic Surgeons and the New York Regional Society of Plastic Surgeons. In addition, he sits on the executive council of the New York County Medical Society and has been a delegate to the Medical Society of the State of New York for years. At his inviting, boutique-style practice in Manhattan, he focuses on each patient's unique needs and aesthetic goals so that he can provide the most attractive and natural-looking outcomes possible.
Meet Dr. Sterry
Request a Consultation
Credentials you can trust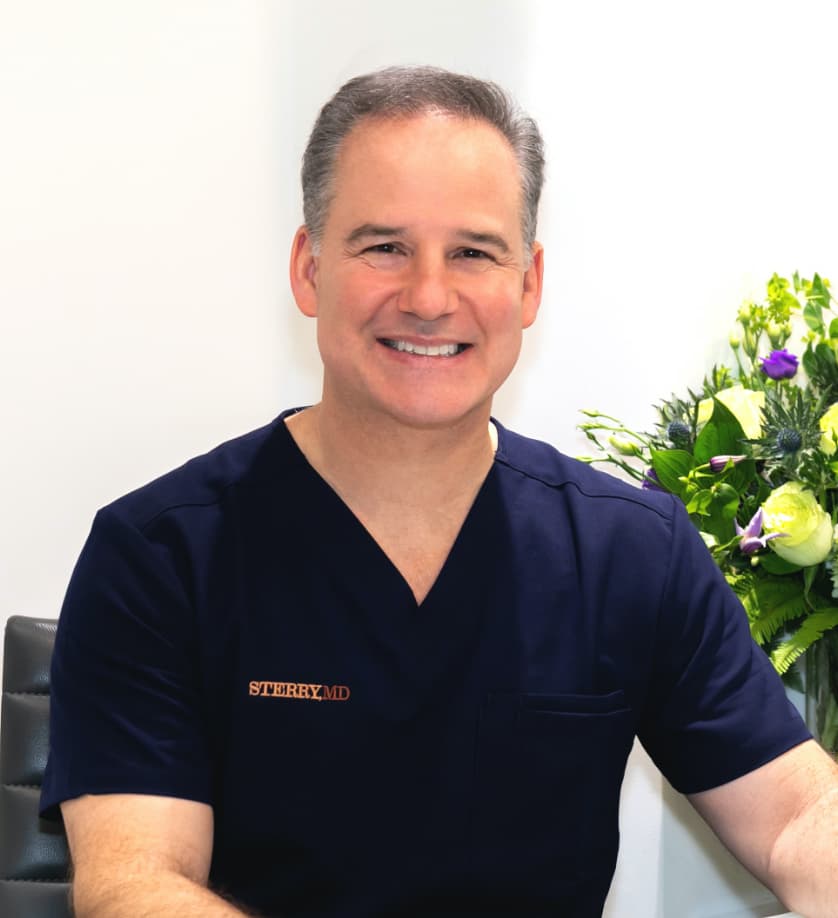 Dr. Sterry offers a variety of breast augmentation procedures to his NYC clients.
Breast augmentation could easily be the most popular procedure around. Dr. Sterry's clients can choose from a variety of options, including Gummy Bear implants.
After pregnancy, breastfeeding, or weight loss, many women have Dr. Sterry perform breast augmentation as part of Mommy Makeover surgery.
Breast augmentation, also called augmentation mammoplasty or breast enlargement surgery, is a cosmetic procedure that uses breast implants to enlarge and shape the breasts. This procedure can give you a greater sense of freedom with fashions and may also help improve your self-confidence. Breast enhancement has one of the highest patient satisfaction rates of any plastic surgery procedure.
And now you have more choices in breast implants than ever before when it comes to breast augmentation. Long Island and Manhattan patients can choose from a variety of silicone and saline implants in different shapes and sizes to achieve their cosmetic goals. The United States Food and Drug Administration approved silicone gel breast implants in 2006, reversing a 14-year restriction. Whether you choose silicone gel or saline implants, Dr. Sterry can help you achieve the look you've always wanted.
Why get breast implants?
Women have asked Dr. Sterry this question numerous times. It is important to carefully consider these reasons:
Achieving the breast size and shape you wish nature had given you
Balancing out breasts with uneven size
Restoring natural breast volume lost due to pregnancy, weight loss, or aging
Giving your self-image a boost
Breast Augmentation FAQ
How do you perform breast augmentation?
The technique I use for your surgery will depend on your desired results. Personally, I like to place the incision in the fold beneath the breast, or around the areola.
I will do the axillary incision in the armpit for patients who really want it, but I also warn them that statistically, the axillary approach has a higher incidence of problems.
---
Do you perform the trans-umbilical or TUBA procedure?
No, I will not insert breast implants through the navel. It's an imperfect operation. There's a lot of misplacement of the implants; there's a lot of capsular contracture, where the breast hardens after implant surgery; there's a lot of streaking due to infection. If you get an infection, you can get streaks from the navel all the way up to the breasts.
Plus, some implant manufacturers will void their 10-year warranty against breakage if the implants are inserted through the navel with a TUBA procedure.
---
Do you prefer silicone gel or saline breast implants?
I prefer silicone, but the decision is always up to the patient. Silicone is a far better product—it feels much more natural. I don't see how anybody can really argue about it. The rest of the planet never stopped using silicone gel implants. We have tens of thousands of women and patient years demonstrating that there's no correlation between silicone implants and auto-immune diseases.
---
Do you prefer smooth or textured implants?
I prefer smooth implants. The argument for textured implants, theoretically, used to be that they have less incidence of capsular contracture. But we've also found that textured implants result in more wrinkling at the side of the breast—which women definitely don't like.
---
Do you prefer round or teardrop-shaped implants?
I prefer the round implants—they're the simplest, safest, and produce pretty reliable results.
Anatomical, or teardrop-shaped, implants are a great idea in theory, but unfortunately, sometimes they get out of position. If you imagine an oval-shaped implant that turns sideways, it makes the breast look ridiculous. Then it's a nightmare—you have to go back in to operate to fix it.
Interestingly, studies have analyzed women with round implants. When they observed the patients in a standing position, the researchers found that over time, the round implants end up turning into a teardrop shape due to gravity. So why even deal with anatomical implants?
---
Do you ever use high-profile implants?
Yes. I will sometimes use high-profile implants to achieve more volume in women with a narrower chest. And there are some women who want high-profile implants because they want their breasts to look as large as possible and get the most cleavage.
---
Does breast augmentation surgery leave noticeable scars?
The scars that form from these incisions generally fade nicely and may be hidden within the natural creases of your body.
---
Do you prefer to place the implants over or under the chest muscle?
That depends on the patient. From an aesthetic standpoint, I like to place implants under the muscle because they're more subtle. I think that's probably a better operation because it's been shown that patients have less chance of infection and fewer chances of problems with the implant itself.
You'll also be able to get better mammograms if the implant is placed under the muscle. The patient's health has to come first and foremost. However, the downside of placing the implant under the muscle is that it's more painful.
However, if the patient is a woman under 30 who has a reasonable amount of breast tissue to camouflage an implant, I'll place the implants over the chest muscle.
---
Can a woman still breastfeed after having implants?
Yes. Particularly if the incision is made in the crease under the breast or in the armpit, you should be able to breastfeed after having breast implant surgery.
In some cases, breast implant surgery might affect the volume of milk you produce, so it's a good idea to monitor your baby to be sure he or she is getting enough milk from the breast—and, if necessary, supplement with formula.
---
What happens if an implant ruptures?
If a saline implant ruptures, it's visually apparent right away—the implant simply deflates and the saltwater filling is reabsorbed by the body.
If a silicone gel implant ruptures, it's much harder to detect—it may take an MRI to confirm that a rupture has occurred. With today's cohesive or gummi-bear silicone implants, the filling stays intact; it is designed not to spread from the breast into the surrounding tissue. However, you should replace a ruptured silicone implant promptly.
---
Do most women want to look like they've had breast implants?
No. Most of my breast augmentation patients want to look natural. They want a little more volume—but not too much. They don't really want their friends to know that it was done; they just want to look a little bit better, and they want it to be subtle.
---
Are there women who want to look like they've had implants?
Yes. Once in a while, I'll get a woman who wants the whole shebang. She'll say, 'What's the point in having breast augmentation if it's not going to look like that? That's why you do it! I want to look sultry and sexy.'
It's a matter of personal taste. There are women who just want to have a little bit more, and then there are women who want to look 'hot.' It's all OK. As long as the patient tells me what she wants, I can try to deliver.
That's fine if that's what you're looking for. I know how to deliver that, too. It's just not what I prefer to do.
---
How do you define a well-done breast enhancement?
To me, a well-done plastic surgery procedure is one where the outside world would never know I ever touched the patient. But not everybody wants that—particularly with breasts.
Sometimes, women really want a lot of cleavage. They want that rounded shape on the outside of their body—where, if you look at them from the front, the borders of the breast actually go beyond the border of their chest wall.
---
Will breast implants alone correct sagging breasts?
It depends on how much your breasts are sagging. I may suggest performing a breast lift procedure in conjunction with your breast augmentation surgery to be sure that your result appears natural.
Sometimes, implants alone can give a wonderful result if your breasts have mild sagging—particularly after having children. There's a condition called pseudo-ptosis. ptosis simply means hanging. In pseudo-ptosis, the breast isn't really sagging, because the nipple is in a good position, but the breast has lost volume.
Women with pseudo-ptosis might think they need a breast lift, but they don't actually need all the scars associated with that procedure. If I just put implants in, it will have the effect of lifting the nipple and volumizing the breast. And the woman's breasts will look much more like they did before she had children.
For a woman with grade 1 or even grade 2 ptosis, where the nipple is at or slightly below the breast crease, implants can sometimes help. It's all a matter of how big you want your breasts to be. The more lift you want, the larger the implant needs to be—and I don't like to make women's breasts look unnaturally large.
---
How long do breast implants typically last?
It's important to realize that breast implants are not lifetime devices. You can expect implants to last a good 10 years. In fact, the manufacturers warranty their implants for that long—and you can also purchase an extended warranty that will cover all of your surgical costs if you need to replace your implants. I know some patients whose implants have lasted for 18 years.
---
Can a woman with breast implants still have mammograms?
Yes, after breast implant surgery, it's important that you continue to have mammograms as often as your primary care physician or OB/GYN recommends. When you go for a mammogram, be sure to let the technician know you have breast implants.
There is a special mammography method called the Eklund technique for women with breast implants. This technique, which has improved the ability to visualize more of the breast tissue in patients with implants, is available at every accredited mammography facility in the U.S.
---
Does breast augmentation surgery require a hospital stay?
No. Breast augmentation does not usually require a hospital stay. Your procedure may be performed in a hospital, an outpatient surgery center, or an office-based surgical suite.
---
How long does breast implant surgery take?
Breast implant surgery usually takes a little over an hour.
---
What kind of anesthesia is used for breast augmentation?
Breast augmentation is performed under general anesthesia; you will be asleep during the entire procedure.
---
What should you expect immediately after breast augmentation?
When the operation is complete, you will be wearing a support bra and sterile dressings. You'll be taken to a recovery area where you'll be closely monitored for a few hours before going home. I use absorbable sutures, so you will never have to have stitches removed. In most cases, surgical drains are not necessary after breast implant surgery.
You should be able to see the results of your breast enhancement immediately. Within a day or two after surgery, you should be up and around. And any discomfort that you feel can be controlled with medication.
---
How long does it take to recover after breast implant surgery?
Within the first week, your swelling may be significant but will begin to improve. You will be able to shower, and can return to work as long as it does not involve a great deal of manual labor.
For the first few weeks after surgery, you will need to wear a surgical support bra. After several weeks, swelling will improve and you will resume most of your normal exercise routine.
---
What results can you expect from breast enhancement?
In my medical career, the most grateful patients I've ever had have been kidney transplant patients—and the second-most-grateful are breast augmentation patients. They love it. They tell me how it's changed their life, and they're just thrilled. They say they can wear all the clothes they couldn't wear before, and that they have so much more confidence.
One of my colleagues claims that his breast augmentation patients have a 90% engagement rate within one year of surgery. They certainly get a lot more attention!
A Reputation Built on Results
Dr. Sterry and his staff are absolutely amazing! I'm extremely happy with the results.
I had Smartlipo on my abdomen and flanks with Dr. Sterry a little over three weeks ago. Although it...
Very good experience with Dr. Sterry - Smart Lipo on abdomen & flanks I had Smartlipo on my abdomen...
Ask Us About Our
Skincare Products
Financing Available
Learn More