Thomas P. Sterry, MD
1080 5th Avenue #1b
New York, NY 10128
Phone: (212) 249-4020
Monday & Thursday: 9 a.m.–7 p.m.
Tuesday, Wednesday, & Friday: 9 a.m.–5 p.m.

Real Tummy Tuck Results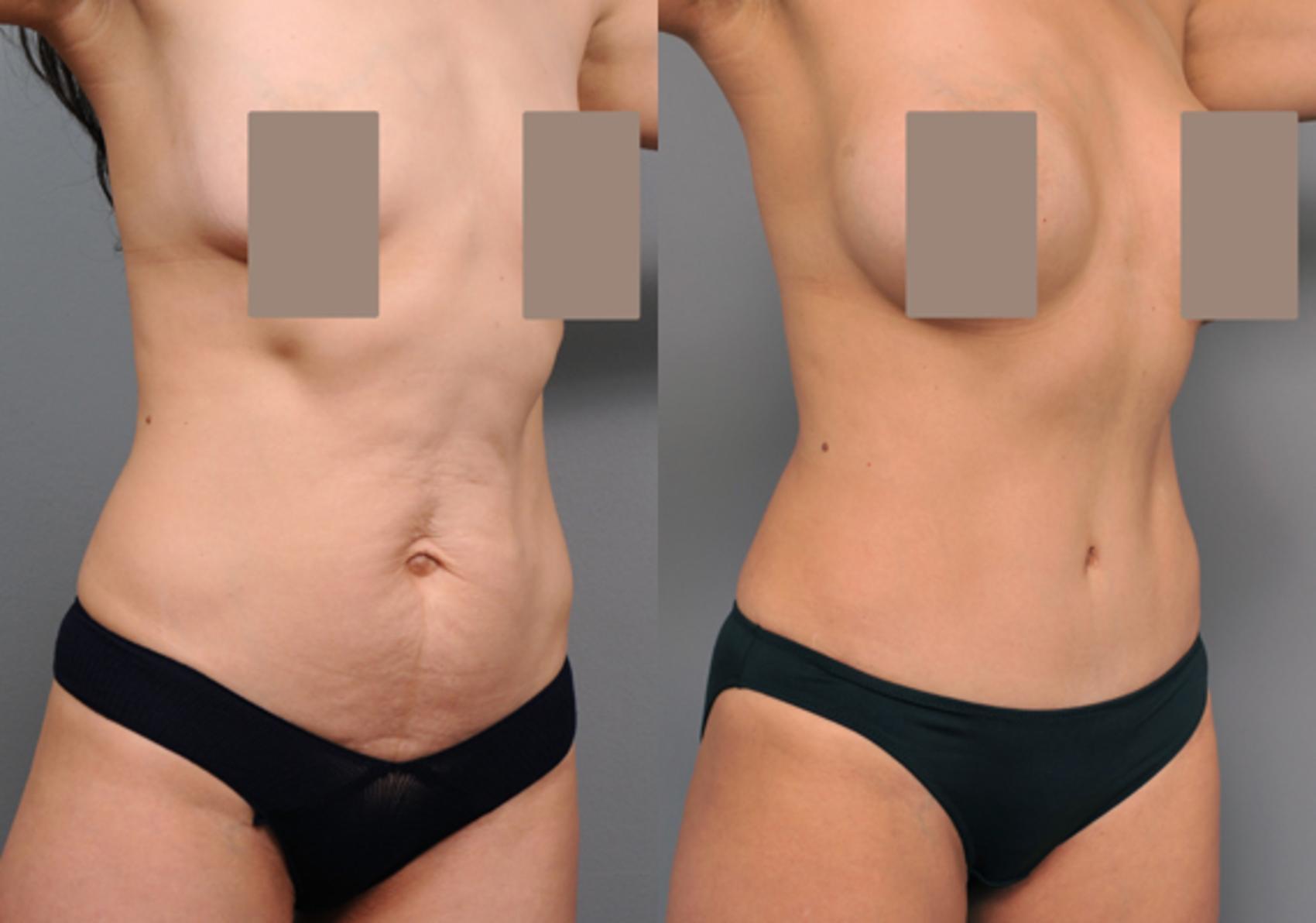 Before & After
This is a 37 year old woman who had two children and said she didn't feel "proud" anymore. She wanted another chance to have a physique she would be able to reveal at the beach without hesitation. There was also a belly button hernia that she wanted to have fixed to make her umbilicus look normal.

In addition to the abdominal work she was requesting, she wanted breast augmentation to bring her bust back to the size it was before having children, so we sometimes call this procedure a Mommy Makeover. She was a little shy and didn't want me to show her breasts, so we left those covered in these photographs, but let's just say she is happier with her silhouette after restoring her C-cup breasts.

During this tummy tuck I tightened the abdominal muscles (as I always do except in rare instances), did some liposuction around the flanks, and kept the scar well within her bikini line. Scar placement is very important because I can't control how a scar will form or what it will look like, but I can control where it is placed. Over the years I have become very proud of my ability to put that scar where the pateint needs it to be so that it's hidden from the public.

During her tummy tuck recovery this patient complained about feeling "tight" but she really didn't have much pain because I used a 3 Day Comfort Block. This is a specific type of nerve block that pain management doctors use and I learned from an anesthesiologist. I use a long acting form of local anesthetic and inject it right into the area where most of the abdominal sensory nerves travel around the waist from the back. This procedure has been a real Game Changer in my practice as all the tummy tuck patients get up and walk around immediately after surgery. The majority of them have little pain, and tell me they are aware of the operation, but it doesn't hurt. This is a tremendous change from a few years ago before I was using the pain block.
While I do some drainless tummy tucks, this patient did have a drain for 4 days and I removed it at her first postoperative visit. I chose to leave it in this case because of the liposuction that was performed around the back and I knew there would be a lot of tumescent fluid (necessary for lipo) which could develop into a collection if I didn't. However, because of the progressive tension sutures I used, the drain was only left as a precaution and was taken out fairly quickly.

Finally, the belly button is the "Crown Jewel" of the tummy tuck. It's shape and size is uber important and I always try to hide 3/4 of the scar under a little skin hood above. This maneuver helps conceal the fact that the patient has had a tummy tuck when they go to the beach or at the poolside.
Procedures Performed
About This Patient
View All Patient Photos
*Keep in mind that each patient is unique and your results may vary.